The COVID-19 pandemic may have derailed Adrenalin Group's ambitions for growth, but the Singapore-based events firm is bouncing back by transforming its services and adapting to changing consumer demands, backed by timely support.
When Mr Richardo Chua and his team were engaged to manage the booths at the Lunar New Year Open House event at the Istana in late February 2020, the last thing he expected was for it to be his final gig in a pre-pandemic world.
The 39-year-old founder and chairman of events company Adrenalin Group had, after all, already secured 24 projects. It was shaping up to be a good year, or so he thought.
But life had other plans. At about that same time, COVID-19 was spreading across continents, jumping from human to human. Soon, global borders were shut, with the world sinking into its worst recession since the Great Depression.
For Mr Chua, the biggest blow came on March 13, when Singapore's multi-ministry taskforce announced the cancellation and deferment of all ticketed cultural, sports and entertainment events with more than 250 participants. Almost overnight, Singapore's events industry collapsed.
From having two dozen contracts in the bag to zero, Mr Chua found himself in crisis mode. He made the hard decision of letting a few employees go, and implemented no-pay leave and a pay cut across the company.
"You could say it was an extinction of event-based activities," he said. "The impact was so bad that I witnessed three to five peers closing down their businesses and selling off their equipment."
A new game plan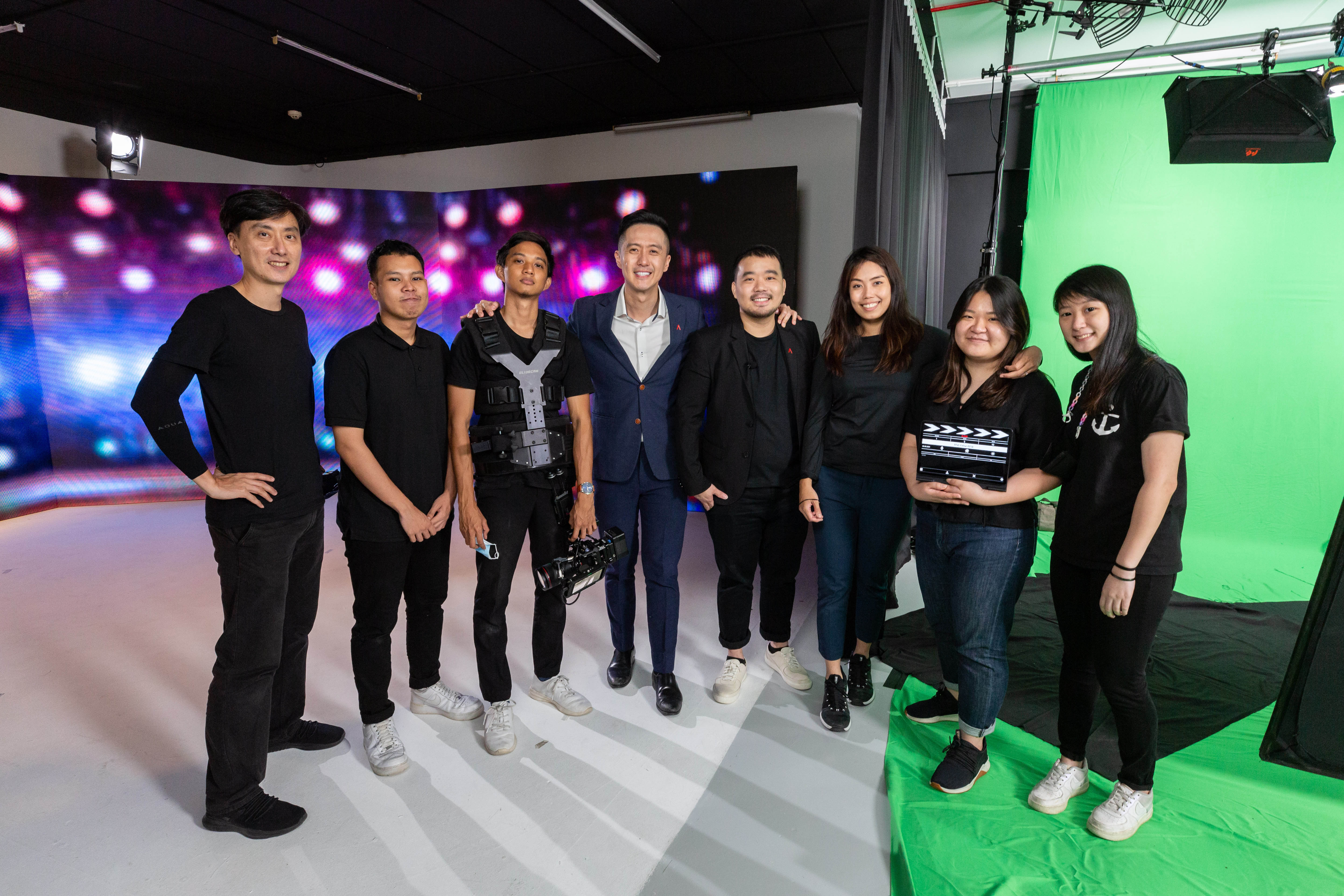 With nothing left to lose, Mr Chua was focused on the one thing that mattered: survival.
He saw other event emcees become property agents and audiovisual companies turn to logistics and deliveries to stay afloat, and he knew he had to transform his business too.
Online events became Mr Chua's new game plan. From an events-based company, he decided to rebrand and reposition Adrenalin Group as a live broadcast unit - an integrated communications agency that would provide services like video and content production.
"It is still storytelling - but using a different medium," he said.
It helped that the company had set up Aether Labs, its in-house innovation and tech team, earlier in 2019. By hiring a software developer, they were soon able to dabble in augmented reality, virtual reality, and 3D printing to digitise events and elevate the viewer experience.
But change did not come easy. His employees had to adapt to new job scopes and responsibilities. For example, designers had to assume the role of directors while event managers became show producers. Conducting their own live Facebook shows gave them an opportunity to learn from their mistakes and improve their delivery.
By early April 2020, they snagged their first online gig: a 12-hour Facebook livestream by a home appliance brand showcasing local companies and talents through videos, performances, interviews that were all done from home.
"It was a wonderful sign at a difficult time. It gave us the affirmation that this will be the type of events that will take place in the foreseeable future," said Mr Chua, who was emcee for the event. The company went on to execute about 40 events in 2020, half of its usual business volume.
Pillars of support
While Mr Chua believed that the economy would eventually recover, he also knew that he needed capital to sustain the company until they turned the corner. Cashflow was a big concern, especially since he experienced an overall 60 per cent drop in business last year.
Having been a Maybank Singapore client since 2017, he tapped on the bank for a government-assisted SME working capital loan in the middle of 2020. This allowed Mr Chua to pay salaries, carry out software upgrading, and retrofit the studio so that it could house the new business.
"Even in this challenging period, our SME officers continue to spend quality time with business owners, co-identifying financial needs and curating solutions that would help protect, sustain and even propel their enterprise forward," said Mr Marc Leong, Head of SME Banking at Maybank Singapore.
For Mr Chua, the effort paid off.
In November 2020, Adrenalin Group worked with the President's Office for the virtual Deepavali Istana Open House, which was hosted by President Halimah Yacob, in a Facebook livestream. Mr Chua, who moderated the event, saw this as the turning point for the company. The company broke even in 2020, resumed paying full salaries in October 2020, and has been able to give its staff a modest pay raise this year.
"I am glad to have the bank and clients support us as we see through this crisis," he said.
"With the right people and the right attitude, I believe we can shape the future. This pandemic has shown us that no challenge is too hard to surmount."