Taking out a business loan from a bank may seem daunting for many small and medium-sized businesses. But with the right preparation, it doesn't have to be.
With safe distancing measures forcing businesses to go digital, many have found the need to invest in new IT solutions, equipment, or online marketing. This has been the case for many food and beverage outfits recently, which would have found such hefty investments to be unfeasible if not for business loans.
But while business loans are critical to any company, sometimes it may be difficult to secure one. Here are a few pointers that may help you get your next loan for your business.
What to consider?
1. Have a solid business plan.
When it comes to taking a loan, you need to be clear about what you are going to use those extra funds for. Banks and financial institutions have to be sure that they are lending money to good, profitable and sound businesses.
For businesses, this means having a sound business plan, including what you intend to use the money for. If the goal is to buy new equipment so that you can boost productivity and raise your bottom line, the chances of securing a business loan is higher than say wanting to buy a nice car for yourself.
In other words, show the lender specifically how the loan would be used. Key risks should also be identified, with a plan for managing them.
2. Organise your financials, and be prepared to talk about them
Nobody wants to bet on a losing venture - and the same goes for lenders of business loans.
To make your SME more appealing to lenders, give them a better picture of what they are getting into. This includes preparing things like your tax returns, a detailed budget and timely profit and loss reports over the past two years.
Embracing digital enablers like digital accounting, human resourcing and payroll platforms would also greatly enhance data gathering efficiency. These digital tools can be integrated with the financial institution's backend digital operations to help your business keep track of your debt or loan repayments.
3. Maintain your creditworthiness
Another factor in loan applications is the company's credit score. Borrowers with a track record of late payments, active bankruptcy or other issues may find it harder to secure loans. This is because lenders are afraid of the higher risks of these lenders defaulting on their payments.
To maintain a good credit standing, be sure to pay all your bills on time. Avoid returned cheques - even if they are due to spelling mistakes - or taking on too many existing loans. These give the impression that you are not in control of your finances, which, in turn, would make a lender think twice.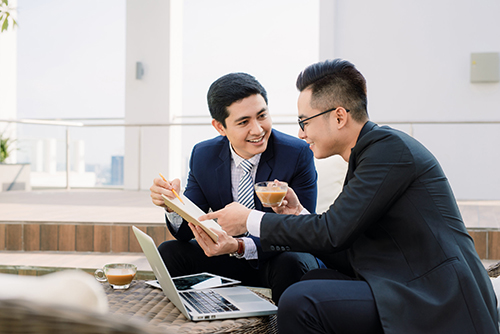 A different solution for every need
Not all loans are equal, which means a business needs to be clear on what exactly they are borrowing for.
Different loans cater to different needs. Maybank's Business Term Loans, for instance, offers companies financing of up to S$500,000 with a repayment period of up to five years, with no collateral requirement. This would be suitable for SMEs looking for working capital to address their short-term operational needs.
On the contrary, a company that hopes to facilitate its domestic and international trade and mitigate the risks involved in such transactions would be better off looking at more targeted Trade Financing products. Likewise, those looking at buying real estate for their business needs should look at Commercial & Industrial Property Loans.
Taking a loan may not be as straightforward for some SMEs. But the key to securing one is clear-cut: Prove to lenders that you are a good, solid bet.

the bottom line:
Securing a business loan can mean important and timely support for your business. Be sure to lay the necessary groundwork for a smooth process.