Can profit and sustainability go hand in hand? Ebenezer Group proves that the answer is yes.
In this era of heightened environmental awareness, scores of companies have pledged to go green. Ebenezer Group, a homegrown engineering firm, has gone one step further by walking the talk. Since 2018, it has switched from dealing in dirty energy to embracing and advocating renewable energy.
Originally an oil and gas engineering business, Ebenezer now prides itself on specialising in solar photovoltaic (PV) systems, among other business branches.
"The prospect of the oil and gas industry was weakening, and we wanted to move out of the industry in 2017," said Lawrence Kim, 40, Ebenezer Group's Chief Executive. "We then got into the renewable energy industry in order to better understand how we could play our part in creating a greener world."
"Being in a new industry, a big challenge was understanding the ins and outs of the trade," he added. "We also trained our staff to take on new job roles and learn new skills and practices. That way, we did not have to let go of anyone."
Turning over a new leaf was a bold move. However, Ebenezer's efforts paid off with even bolder results. In recent years, profit has doubled and operational costs are reduced, with at least S$160,000 saved on energy usage per year.
Every shade of green counts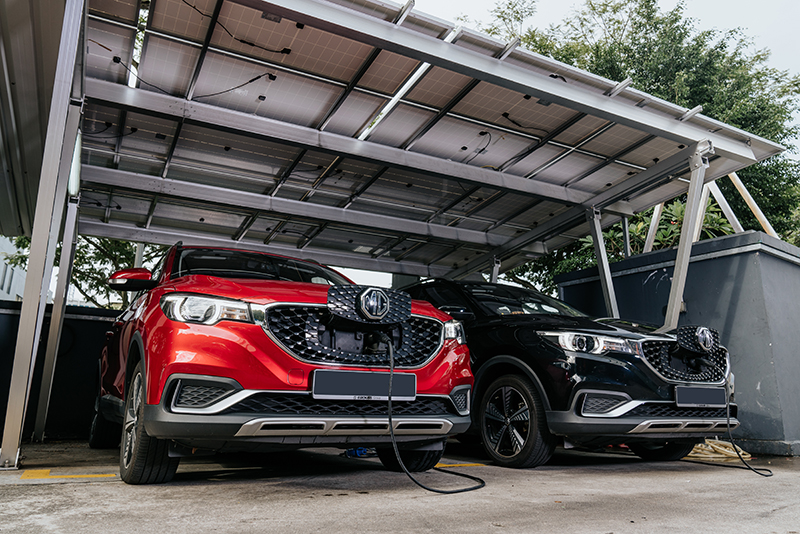 Ebenezer powers its own EVs' solar charging in its building premises.
When it comes to sustainability efforts, Mr Kim ensures that almost every aspect of the business, no matter big or small, gets the green treatment.
"Our entire 52,000-square feet Ebenezer Building is powered by solar energy, which supplies at least 80 per cent of our energy consumption needs," said Mr Kim. "Even the everyday things that we use, like toilet paper and writing materials, are made from recycled materials."
The Group's over 100 workers are now well-versed in environmentally-friendly practices. For instance, they are trained to turn off engines of company vehicles whenever they are not in use and adopt a strong culture of recycling anything from steel to plastics and cardboard at work. In 2020, the Group also purchased three electric vehicles (EV), powered by solar energy, for staff to use. One EV is estimated to save more than S$15,000 a year on petrol.
"I let my staff know that going green is important, not just good to have," said Mr Kim. "Everyone must play a part to heal the planet."
Bright skies, better business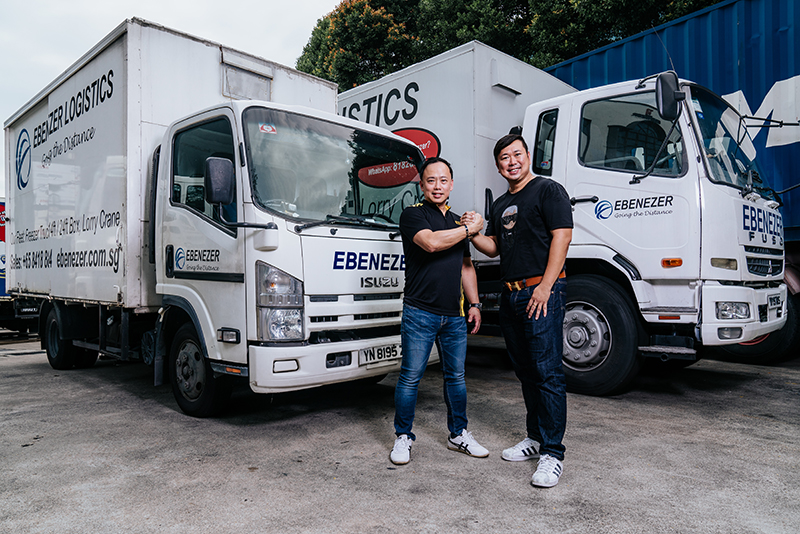 Maybank Singapore 's Marc Leong (left) and Ebenezer 's Lawrence Kim in front of a logistic fleet.
Ebenezer Group's shift in its core business has reaped rewards.
Its rooftop PV system, which leverages solar energy to generate electricity, has been utilised by a plethora of businesses and organisations, including construction companies. Besides reducing their carbon footprint, these companies have also slashed their power bills.
"Solar energy is clean, safe and inexhaustible," said Mr Kim. "It also leads to lower energy bills and the return on investment (ROI) is guaranteed in four to five years."
But getting many companies on board the adoption of solar energy requires a lot of convincing.
"It was not easy when we first branched into this solar integration business. Customers did not fully understand solar energy," said Mr Kim. "Although the acceptance rate today is better, the adoption rate of solar energy in buildings is still low."
That said, Singapore remains on track to achieving its solar panel deployment target of at least 2 gigawatt-peak (GWp) by 2030. Solar installed capacity is up over eight-fold from 2015 to more than 500 megawatt-peak (MWp) in the second quarter of 2021.
As demand for solar energy climbs, Maybank Singapore has been supporting Ebenezer in its green journey by providing working capital loans to aid the company's growth.
"For instance, we intend to bring in more EVs into our transport fleet", said Mr Kim, adding that he is looking at financing the venture with Maybank.
Marc Leong, Head of SME Banking at Maybank Singapore, added, "Both Ebenezer and Maybank share a common vision in helping SMEs transition into green and solar-focused companies for a sustainable future. The goal is for Ebenezer to provide technical expertise and for Maybank to provide financial assistance - combining the best of both worlds."
Generating more power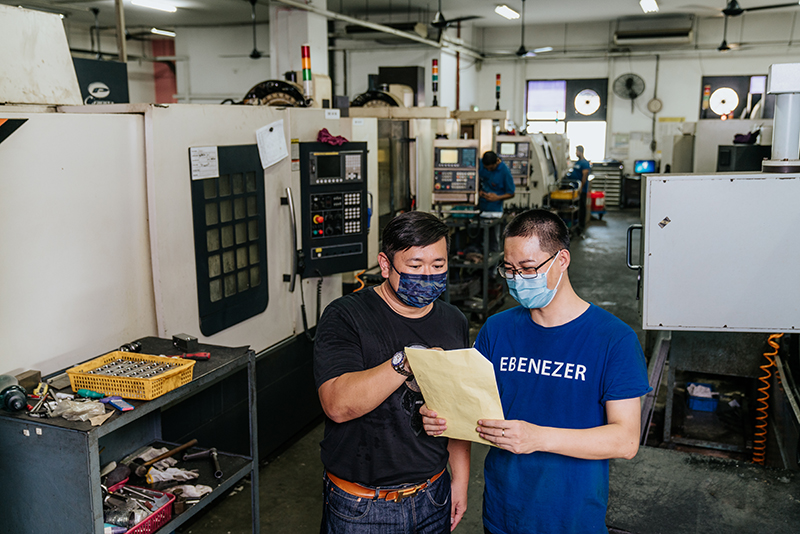 Inside Ebenezer's precision engineering plant.
Ever the consummate business executive, Mr Kim is already looking ahead and exploring other avenues of growth.
"Company expansion is always at the back of my mind. I think about how fast it can grow, but it has slowed down due to COVID-19," he said. "This year, we will try to grow more. With the local economy opening up, we have already increased our workforce by 20 per cent in the first quarter of this year. We aim to expand it by 50 per cent by year-end."
To him, sustainability and profit go hand in hand.
"Embracing renewable energy is one way to drive down costs," said Mr Kim. "I will always think of what, where and how we can reduce costs."
Beyond solar energy, the company is now exploring wind and water energy, and already has the hardware on hand. Perhaps soon, we will see windmills and turbines in Singapore stamped with the Ebenezer brand.