The doubling of government-paid paternity leave next year will help parents, but how can employers approach it?
Dads-to-be rejoiced at the Singapore Budget this year, as it was announced that working fathers of Singaporean children born in 2024 can take four weeks of government-paid paternity leave, up from the current two weeks.
Deputy Prime Minister Lawrence Wong said then: "We want paternal involvement to be the norm in our society, and we will stand behind all our fathers who want to play a bigger role in raising our children."
However, caveats remain. The additional two weeks are still given on a voluntary basis by employers, as companies require time to adjust to the change, especially for smaller SMEs with manpower limitations.
Nonetheless, some organisations have gone a step further. For example, Maybank Singapore has proceeded with an early adoption of the paternity leave enhancement, commencing the policy two months ahead on 1 October 2023 instead.
As your company ponders over whether to implement the extended paternity leave, these are three issues you can take into consideration amid shifting norms around parental leave in Singapore:
1. Do your employees feel at ease taking parental leave?
Introducing an extended paternity leave policy is just the first step. The true measure of its efficacy is whether employees embrace it.
For instance, when government-paid paternity leave was introduced in 2013, the take-up rate was just 25 per cent. In 2021, this has increased to 53 per cent.
The relatively low take-up rate may boil down to a work culture where parents feel they will be disadvantaged in their careers for taking parental leave, or feel pressured by less supportive superiors and colleagues. It may thus be timely to reassess if your company's culture fosters such stigma against parents.
2. Are there business benefits for parent-friendly companies?
The fair question companies, especially SMEs, can ask however, is – does it come at the cost of business needs?
After all, in a challenging macro environment, it is challenging enough to keep businesses afloat amid rising costs.
There is no doubt that in the short term, companies have to adapt to the enhancements of the paternity leave, or revise their manpower arrangements whenever an employee goes on parental leave.
But there are numerous benefits to companies in the long term. This is seen most in talent attraction and retention, where, for example, 83 per cent of millennials said they would be more likely to join a company offering good parental leave benefits.
When parents feel empowered by their employers to look after their families, surveys show that they also tend to be more motivated, productive and have higher job satisfaction at work.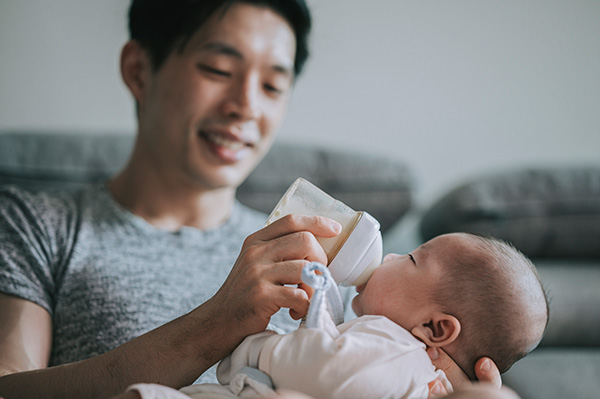 3. Would you want your business to make a greater impact?
From promoting a fairer share of parenting and reducing maternal stress, to long-term benefits for marital satisfaction and father-child bonding, the societal impact of parental leave has proved to be positive. Businesses play a key role in establishing norms in the wider community.
Yet it is important to note that while important, parental leave is not the be-all and end-all when it comes to company policies for parents. There is a spectrum of benefits employers can choose to utilise, even if they are not yet ready to grant a full four-week paternity leave. These could be, for example, flexible work arrangements and family health benefits.
Granting more parental leave does not always have to mean greater labour pains for employers. Take care of your employees and their families, and this will likely in turn take care of your business.

the bottom line:
Does your company have parent-friendly policies in place that employees feel comfortable using? The long-term business benefits of these initiatives could ultimately mean a win-win situation.