At a time when the COVID-19 pandemic closed borders and put up invisible barriers across the globe, a local gourmet popcorn maker managed to break new frontiers.
When Singapore entered into its circuit breaker period between April 7 and June 1, 2020, the retail and food and beverage sectors found themselves being closed in. With global travel suspended and even domestic movement restricted, they lost S$4 billion in sales during that period alone, and S$10 billion in all of 2020.
But at least one homegrown company was focused on expanding outwards.
The Kettle Gourmet, a gourmet popcorn brand, boldly kicked off its export business that year, supplying its products to customers not only in Singapore, but also in Dubai and Malaysia. In August, it also embarked on a rebranding exercise. Sales, as a result, grew 2.5 times.
"There were definitely risks, but we weren't reckless. We took calculated risks like ensuring we were paid first before arranging for any shipment or ensuring our suppliers could fulfil the raw materials needed for the order," said founder Zac Chua.
"In fact, it was good timing as a lot of people were working from home. Without travelling, people were willing to spend more on consumables. Many were also looking for something new and different amidst all the panic, uncertainty and low morale caused by COVID."
From kernel to popcorn

Chinese New Year festive packaging from The Kettle Gourmet.
While The Kettle Gourmet has been seeing a stream of sweet success in recent years, it hasn't always been easy.
Mr Chua, who is 31 this year, started the company in July 2017 - what he called an "accidental startup". It began as a home-based business for salted caramel popcorn. As demand grew, so did his appetite for experimentation and entrepreneurship.
"My character has always been driven by curiosity. I like experimenting with new things, and the risk-taking mindset of my family members has also rubbed off on me: Dare to take risks in order to gain," said Mr Chua, who was studying business at the Singapore Management University then.
"So when orders for the salted caramel popcorn came in steadily through a single-page simple website, it just kept me going."
But finding reliable suppliers and people to work with were big challenges, especially in the early days. Mr Chua made sure he remained hands-on for much of the process, from personally testing out a potential supplier's ingredients to checking the quality of the packaging. He also stayed close to the kitchen to develop a good working relationship with the R&D staff.
His time and effort paid off. Knowing that his company is well-supported by Maybank has also allowed The Kettle Gourmet to grow into its own as a small business through the years. Today, the company sells about 1,000 packs of popcorn on a daily basis, with 22 employees across Singapore and Malaysia.
A breakthrough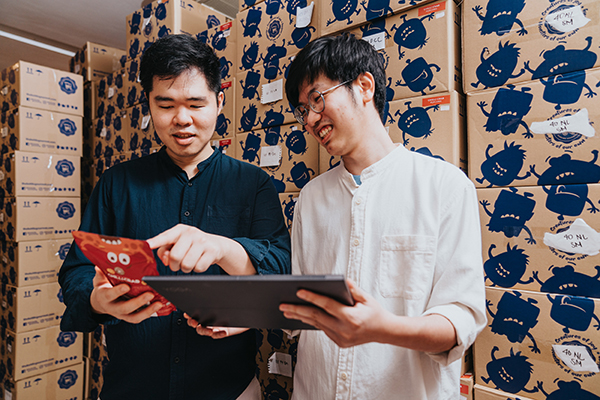 One of the earliest product reviews The Kettle Gourmet received was an online article about the brand's then signature bak kwa popcorn in February 2018.
While the product was pulled off the menu after Mr Chua made the decision to go halal, seizing business opportunities in the Middle East (Dubai) as well as setting up production in Malaysia in 2019, he believes this trade-off to enter new and halal markets was well worth it; the revenue outweighs the costs of doing so.
In fact, getting into the export business has been the company's biggest breakthrough, he said.
As the firm scaled up sales through online channels such as Grab, Shopee, Lazada, RedMart, Deliveroo and AirAsia - entrenching itself as a digital-first business - revenue shot up by 247 per cent in 2020 from 2019.
Unsurprisingly, Mr Chua has no plans to slow down anytime soon. He hopes to achieve a larger order volume, with a few containers going out every month. He also has his eye set on entering China.
Besides stocking shelves at more tourist shops and convenience stores by 2022, plans to roll out a popcorn machine maker are also under way, which will function like a coffee machine, allowing customers to enjoy fresh popcorn anytime at home.
"At some point, I plan to sell the company," he said, adding that growth is still the priority for now.
As much as strategising for the future is key, Mr Chua is also cognisant that there are plenty of lessons to be learnt from the past.
His advice to other entrepreneurs is simple: "There will be setbacks and failures, surely, but don't give up. Just go all out and try. You only need to be right once."