Being an entrepreneur is not easy, especially in these pandemic times, but Ms Jolene Seow, founder of boutique tea company Antea Social is brewing for growth.
"Come, let us have tea and continue to talk about happy things," wrote American author Chaim Potok in his best-selling novel, The Chosen.
It is a quote that perfectly embodies Antea Social's blush-pink "brew-tique" on Tyrwhitt Road. The shop's name is a whimsical play on the word "anti-social", and its goal is more to elicit meaningful conversations over aromatic cups of tea than to encourage reclusiveness.
Antea Social is the brainchild of Ms Jolene Seow, who thrives on such interactions. She had started out in the finance industry before becoming a flight attendant, and finally, making the bold pivot to start her own business.
"I have always enjoyed reading stories about why businesses fail or succeed. I like tea and I had a few ideas. I went to Taiwan, where I met someone who introduced me to a tea maker. Many conversations later, he helped me to create a selection of teas that is now our Signature Collection," Ms Seow said
She researched for a year before sinking a few thousand dollars in to set up an e-commerce store in early 2017, catering to both retail and wholesale orders. Her Signature Teas are made from Taiwan Alishan high mountain oolong tea, infused with the aroma of different fruits and botanicals. They are handmade in small quantities, giving it an artisanal flair.
Taking off solo
For Ms Seow, the road to starting her own business was far from easy. "I embarked on entrepreneurship alone without any guidebook or mentor, and did everything from scratch," she said, adding that many late nights were spent figuring out how to run a business.
"I just tried out different methods by myself. I watched YouTube videos to learn how to use software such as Adobe Illustrator to build website graphics, and I learned how to brew kombucha through reading and experimenting!"
Keeping costs manageable was a priority for the fledgling company. It helped that Maybank's FlexiBiz Account waived fall-below and fund transfer fees for a young enterprise like Antea Social, which allowed Ms Seow to focus on building up the business.
In 2019, she expanded the business by opening a tearoom. With a physical shop, she could collaborate with luxury brands, organise corporate events featuring tea blending bars and services, create wedding favours and other bespoke experiences, and offer workshops.
Then the pandemic hit in April 2020, which "caught everyone by surprise", recalled Ms Seow. She was worried but determined to ride out the crisis.
After closing the tearoom and cancelling or postponing corporate events in line with government regulations, she rolled out an online special delivery menu. This allowed customers to send out care packages of tea even as they stayed indoors. Maybank also offered her a Temporary Bridging Loan, which helped with Antea Social's cash flow.
Through it all, the business grew. Ms Seow said, "I started the business with a low four-digit sum four years ago and have grown it to a business with a six-figure annual revenue and a team of four other employees. When we reopened after the circuit breaker, the number of visitors increased, so it turned out to be a silver lining for us."
This year, the business continued to grapple with changing COVID-19 measures that affected food and beverage outfits such as the recent Heightened Alert phases in May and July, when dine-in was not allowed. Yet the deliveries carried on, boosted by fresh offerings that included a tie-up with a local baker for tea-and-cake sets.
Fuelled by passion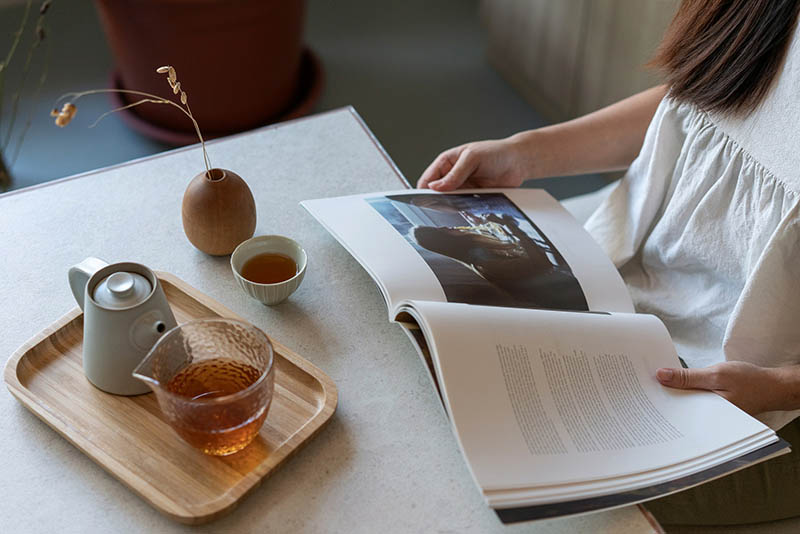 In fact, the pandemic has accelerated Ms Seow's plans to grow Antea Social. She hopes to expand the wholesale business and the online store to reach more consumers worldwide.
The passionate entrepreneur is also developing new products, such as caffeine-free and everyday tea blends, and teaware.
"My work hours are extremely long but it has been a rewarding journey. When I feel stressed and down, I will look back to how far I have come and feel motivated by a sense of fulfilment. The business has brought new people into my life, I met people I would not have met otherwise, and I created new tea flavours in the market," Ms Seow said.
For those raring to give entrepreneurship a shot, her advice is, "Believe that it can be done. You have to set things into motion, value the process, and ensure you are happy during your entrepreneurial adventure."