With scams on an upsurge and becoming increasingly sophisticated, anyone can fall victim to fraud. If you realise you've been caught in one, stay calm and use this guide.
Your phone lights up with an unknown number containing a +65 prefix.
"Hello, this is Jason calling from your local bank. Your bank account is currently under investigation for money laundering as we noticed that you made a number of unusually large transactions yesterday. Can you please provide us with your bank account login details and one-time password so that we can verify the transactions?"
Alarmed and frantic, you share the details Jason asked for. He helpfully transfers your call to someone he says is from the Commercial Affairs Department so that you can lodge a police report.
This "officer" communicates with you over WhatsApp, asking for more photographs and identification documents that contain your personal particulars. A sudden realisation hits you, and you freeze.
At that point, realising you had fallen prey to an impersonation scam, what should you do?
1. Pause and check
Scammers frequently make use of authority and urgency to trick you into offering personal or confidential information. By manipulating you into thinking emotively, you end up making rushed and emotionally driven decisions.
Pause and think if it is rightfully the retailer, bank or financial institution contacting you.
If you are unsure, drop the call immediately. Do not respond to texts or emails and never share your banking or card details with anyone. It's better to be safe than sorry. Get in touch with Maybank at 1800-MAYBANK if you need to verify any email, letter or telephone call requesting personal or confidential banking account information.
Always remember that Maybank will never send you clickable links or hotline numbers in our email or SMS notifications.
Maybank's surveillance team also implements 24/7 monitoring of suspicious transactions. If fraudulent activity is found, we will reach out to you or freeze your account(s) as precautionary measures.
2. Suspend digital banking access
From 16 July 2022, customers can immediately suspend their Maybank2u online and mobile banking access in the event of a scam or fraud. Once this has been activated, the affected accounts will no longer be accessible.
Here's how it works: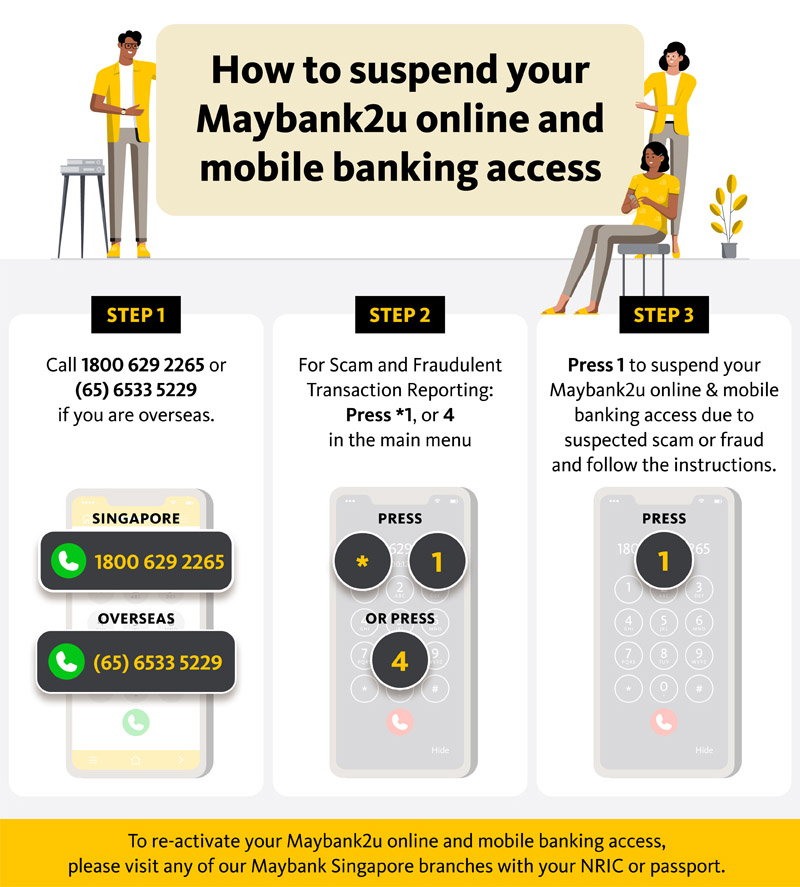 To re-activate your Maybank2u online and mobile banking access, you will need to visit any of our Maybank Singapore branches with your NRIC or passport.
Alternatively, you can call 1800-MAYBANK (1800-629 2265) or (65) 6533 5229 if you are overseas and press star 1 to report any unauthorised transactions made to your account(s).
3. Change your password
As a Maybank customer, you have the option of suspending your Maybank2u online and mobile banking access or changing your password.
Do take note that once the digital banking access is suspended, you will no longer be able to log in to Maybank2u online or mobile banking to change your password.
Upon re-activation of digital banking access at any of our Maybank Singapore branches, customers will be issued a new Access ID (8-digit number) and PIN (6-digit number).
In any case, make it a habit to change your digital banking passwords regularly to add another line of defence for your financial accounts.
4. Lodge a report
At times, victims of fraud may feel embarrassed to file a complaint. But making a police report can prevent you and others from falling for similar con jobs.
You can file a report online with the Singapore Police Force or in person at your nearest Neighbourhood Police Centre. If it was an e-commerce scam, do report it to the platform administrators as well.
In the event that your account has been hacked or compromised, report the fake account and notify your family and friends immediately so they can be on alert as well.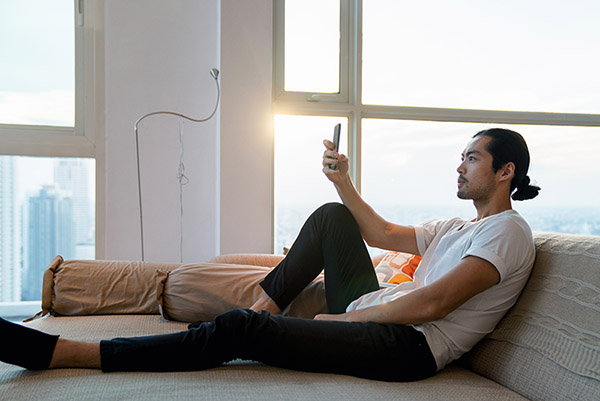 Keep calm and carry on
Impersonation scams such as the scenario depicted at the start of this article are just one of many types. In fact, it was found that people in Singapore lost at least S$633.3 million to scams in 2021, more than double that of the previous year. The largest amount lost in a single case was a massive S$6.4 million.
Take the National Crime Prevention Council's anti-scam quiz to find out how scam-savvy you are.
Anyone can fall prey to scams, which can be an overwhelming experience. But don't panic, stay calm, and you'll be able to find all the help and support you need.
Visit our security alerts to stay updated on the latest scams and tips.

the bottom line:
Nobody is immune to scams. But taking the right steps to respond to it can be critical for recovery.