For Ms Corrinne Tan, Maybank Singapore's Head of Customer Experience Management and Corporate Affairs, the human touch is what separates the good from the great.
From hosting durian buffets for credit card members to creating an online platform for those seeking expert personal finance tips and advice, Maybank has always aimed to put the needs of its customers first.
This explains why it consistently shines in industry-wide customer service rankings. For example, even as overall bank customer satisfaction here dipped amid the Covid-19 pandemic, Maybank climbed up three places to rank third among banks in the Customer Satisfaction Index of Singapore 2020.
Along with her team, Ms Corrinne Tan, Maybank Singapore's Head of Customer Experience Management and Corporate Affairs, is constantly working on new ideas to keep customers happy. In May this year, the bank's branding and marketing communications team launched its new #ForYou brand campaign, which reiterates its brand promise of putting the customers at the heart of what it does, while enhancing the customer experience holistically.
Ms Tan, who has rolled out various award-winning products and initiatives in a career spanning over 20 years, tells us why putting customers first is good for business.
Q: Tell us more about Maybank's latest initiative, the Signature Maybank Experience. What does this mean for customers?
Ms Tan: This all began when we decided to institutionalise our customer experience mindset and to engineer customer-centricity in the bank by design. We wanted to express our mission statement of "Humanising Financial Services" as a set of behaviours that can be translated into a whole-of-bank approach towards customer-centricity. Through in-depth consultations with customers, staff and senior management for over a year, we embarked on an internal campaign called the Signature Maybank Experience at the end of 2019 and arrived at "I and We #ForYou" as our internal service ethos.
The goal is to imbue our frontliners with the mentality of taking responsibility to care for the customer at every encounter, to work as a team to deliver a terrific experience, and to provide that unique Maybank warmth and empathy that customers often associate us with.
Riding on the #ForYou brand campaign launched earlier this year, this customer-first mindset will go beyond customer communication and service. It has to start from within - from the thought processes behind the way we make decisions and design our products, processes, campaigns, and customer engagement. We are in the mass training stage currently and aim to empower our colleagues to plug any service gaps they see in their areas of work.
One example of a successful event was our durian buffet feast for credit card members. We were one of the first banks to hold such a feast in a comfortable air-conditioned venue at a five-star hotel in 2016, and it proved to be immensely popular. We have run it for many years since.
In October 2019, we held a "Hawker Culture by Maybank" event. It showcased some of the best hawkers in Singapore and across the Causeway, allowing our customers to experience the best of both worlds.
In May last year, besides taking such activities online, we also sent digital COVID-19 care kits to our clients to keep them updated on the banking and investment services they can access. These included new or improved initiatives designed for stability, security and recovery, like enabling Malaysians in Singapore who have been impacted by the Movement Control Order in Malaysia to remit funds to any Malaysian bank account, or providing some customers who are insured with Etiqa with complimentary COVID-19 hospitalisation benefit. We wanted to reassure them of our commitment to serve them - and our efforts to keep doing better - even in these trying times.
These efforts were initiated because we listened to what our customers were saying in our dialogues with them. For us, it is fulfilling when we design an experience that customers truly appreciate and find beneficial.
Q: What was your best customer experience inside or outside of the bank?
Ms Tan: A few years ago, I took a cab ride to a meeting using a ride-hailing service. Soon after alighting, I realised that I had left an important folder in the cab. I quickly checked the app for a way to contact the driver and found it easily. He was expecting my call because he'd just seen my folder too. He was extremely courteous and assuring, and said he would drive back to where I was to return the item. But as he was already on his way to pick up another passenger, we arranged to meet at a later time. While I was quite relieved, I felt very apologetic about making him drive all the way back from the East (I was in the Bugis area).
When he arrived, he asked if everything was in order. I thanked him and wanted to pay him for his time and petrol, but he cheerfully said not to worry - that it was his job to make sure his passengers are well taken care of, and that he was just glad I got back what was important to me. I was very impressed by his attitude and sense of responsibility, even though what happened was completely no fault of his. Needless to say, I gave him a very good rating in the app.
We can design many elements of seamlessness to smoothen user experience, such as an app with an intuitive user experience design. But the human touch and a display of true empathy are what give that final (and often unscripted and therefore highly authentic) "wow" factor that makes the entire experience something to remember.
Q: What does Maybank hope to achieve with iMSavvy?
Ms Tan: We have always designed customer education as a key part of our customer advocacy. This focuses on what is best for our customers by sharing financial management tips and new product rollouts with them. iMSavvy is an online platform with a repository of articles on a variety of personal finance topics to keep our customers and any internet users informed on good money management practices, whether it's to grow one's wealth and retirement nest egg, or to pick up tips on cybersecurity.
Through these stories, written with inputs from our in-house experts, we want to help our customers make sound financial decisions. In this way, we can create a more meaningful customer experience that goes beyond interacting with us at a branch, through our banking app, or over a customer service phone call, deepening our brand affinity with them.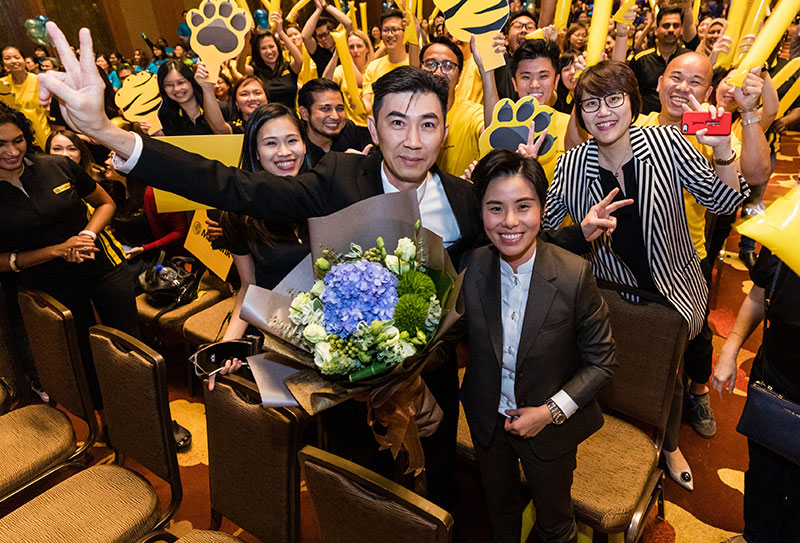 Ms Corrinne Tan (right in jacket) with fellow Maybankers and service champion nominee. [Photo was taken before COVID-19]
Q: Describe your service ethos in three words.
Ms Tan: Empathy, fairness, and sincerity.
In my customer experience role, my job is to put myself in the customer's shoes as much as possible, and to evaluate their issues as fairly as possible. The bank is not always blameless, and the customer is not always right. Maintaining a balance to deliver as fair and objective an outcome as possible is a key part of analysing the situation. Our internal stakeholders are well aware that we sometimes need to ask some unpopular questions or arrive at certain conclusions. We carry out our tasks with a sincere desire to get to the bottom of the matter.
Once we arrive at a decision, regardless of whether it is favourable to the customer, delivering it with empathy to the customer is the most delicate part of our job.