From behind a computer, Maybank's Chan Bee Peng puts together vigilance and speed to fight fraud and protect consumers on a daily basis.
When an elderly woman came close to losing her life savings to a fraudster in late 2021, it was a speedy response by Ms Chan Bee Peng, Senior Executive, Channel Support at Maybank Singapore that helped bring the scam to a screeching halt.
She was one of the winners of the Singapore Police Force's Community Partnership Award (Individual) in recognition of her vigilance and timely intervention in combatting scams in 2021. Some of the awardees had collectively prevented S$14 million from being lost to scams between 2021 and February this year, while others raised public awareness with campaigns on the latest scam trends. Maybank was also presented with the Outstanding Community Partnership Award (Organisation) by the Singapore Police Force for the third consecutive year.
Ms Chan, who has been with Maybank for 15 years, tells us why vigilance has become more important than ever in a digital world where many of us are so used to communicating and transacting instantaneously.
Q: Please share more about your role at Maybank. What do you do?
Ms Chan: One of my key responsibilities is to reply to requests for information from law enforcement authorities, such as the screening of bank records. I also facilitate the Singapore Police Force's (SPF) efforts in combating criminal activities to mitigate financial loss and disrupt scam operations. I work closely with SPF's Anti-Scam Centre (ASC) on various ongoing initiatives which focus on tackling e-commerce, loans and other scams.
Q: Banking scams have been on the rise lately. Can you share an incident where you helped someone fend off a scam?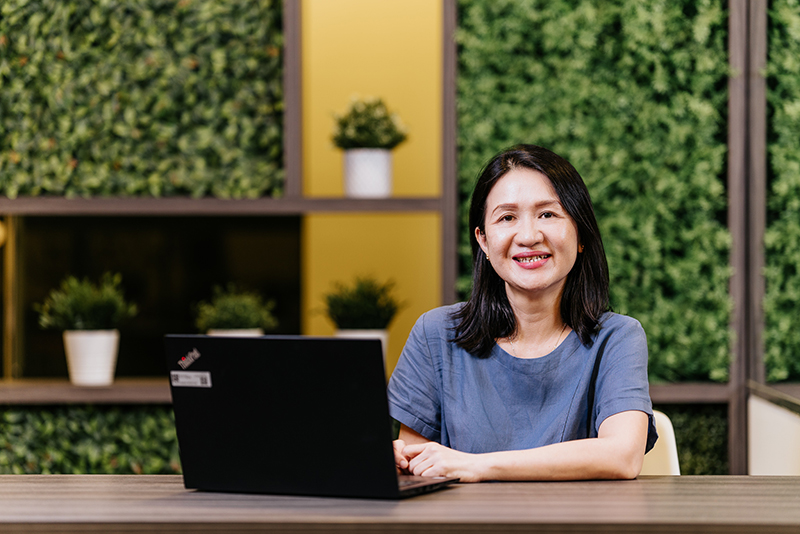 Ms Chan: I remember getting a call from a staff at the Commercial Affairs Department (CAD) ASC after 10pm in late 2021. The victim was a very old lady and the scammer had control of her iBanking account. This staff member informed me that they were at her place and that they were trying to salvage her money as much as they could. I called our Authoriser to retrieve the account balances and concurrently checked with the ASC staff on whether he would like to tag "no debit" on the account, which freezes all debit transactions and withdrawals from the account.
The Authoriser is the team from Maybank's Authorisation & Fraud Control Management department, and they helped to freeze the account immediately on an urgent basis. We managed to salvage S$53,000 in the account for the victim. According to the ASC, the old lady was very grateful.
Q: What are some "trending" tactics used by scammers these days?
Ms Chan: The trending tactic these days is job scams, where victims are invited to participate in jobs that would allow them to earn commission through the buying and selling of movie tickets. Typically, the scammer would befriend the victim on messaging applications and introduce them to purported job offers that would allow them to earn commission.
The victim would be directed to a website to sign up for an account and be instructed to top up their accounts with money to boost movie ticket sales to earn a commission. He or she would be convinced that the job is legitimate as their bank account would indicate the first commission has been received after completing the job, and from there, they would be instructed to continue to top up their account to earn more commission. But the victim would eventually discover that they have been scammed as they are unable to withdraw their commission from their account.
There are also many phishing scams where scammers impersonate banks by sending spoof emails, SMSes or video calls with a bank logo as the backdrop.
Q: What's your advice to consumers on protecting themselves from scams?
Ms Chan: There are no free things in this world. If something sounds too good to be true, it's probably a scam.
Do not accept dubious job offers that offer lucrative returns for minimal effort. Never download applications from unverified sources. Never send money to anyone you do not know or have not met in person. Never disclose your personal particulars, bank login details, credit or debit card details and OTP (one-time password) to anyone.
If you suspect that you're being scammed, check with your bank through their contact centre for advice. This is why inculcating public awareness is of paramount importance.