The Debt Consolidation Plan (DCP) is a welcome solution to turn your finances around if you are facing difficulties in managing your existing debts or keeping up with multiple payments every month.
In order to cope with the various demands or unforeseen emergencies in life, it may be inevitable that you may rack up unsecured debts, including credit card debts and education loans that do not require any collateral.
Since January 2017, financial institutions in Singapore have rolled out the Debt Consolidation Plan (DCP). It is a repayment scheme which allows you to bring together your unsecured outstanding balances on credit cards and unsecured loans from various banks to a single monthly payment with one bank. DCP is beneficial to borrowers and can definitely help in managing your escalating debt.
How does a Debt Consolidation Plan work?
Various banks have DCP as a commercial product. Interest charges and terms of borrowing vary from bank to bank, therefore you should shop around to search for the most favourable terms.
It pays to maintain a good credit history with all banks because at the point of application, a rigorous credit review is usually done by the Debt Consolidating (DC) bank.
After the approval, the DC bank will make a direct payment to the other banks on your behalf. A single DC servicing account will then be created to facilitate your monthly repayment to the DC bank. The total DCP amount will be based on your submitted documents and an additional 5% to offset any incidental fees and charges.
You can only have one DCP at any point in time. At the same time, you can enjoy a revolving credit facility with the DC bank, capped at one month of your income, to meet your day-to-day spending needs.
Do note that the DC bank will inform the other banks that you have banking relationships with your DCP take-up, and you will not be allowed further usage of your unsecured facilities with them.
An illustration below: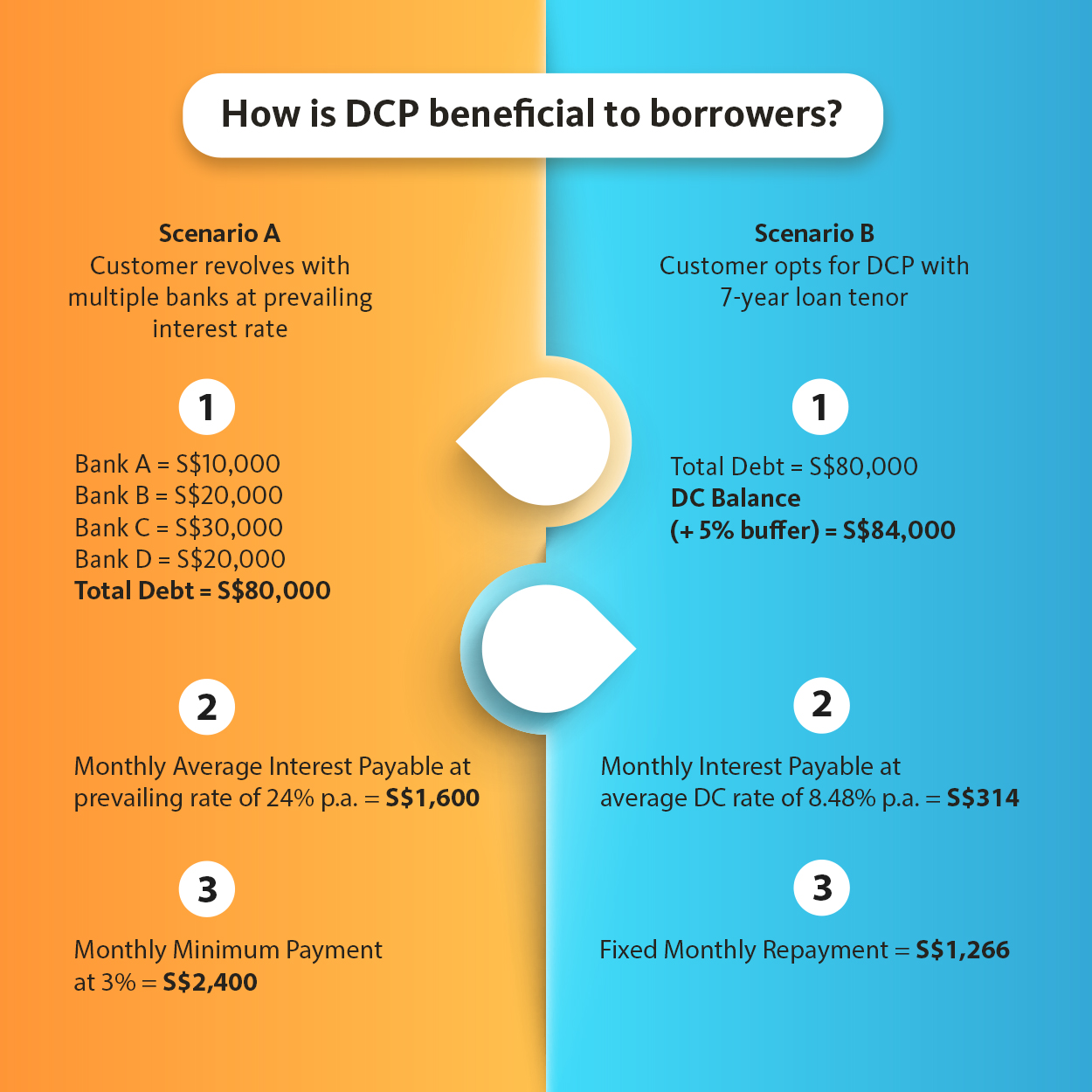 Benefits of having one plan
Some reasons why you should take up DCP:
Better cash flow: A manageable monthly repayment amount and an ideal payment period can be worked out based on your financial situation and servicing capability.
Cultivate a disciplined payment habit: Monthly servicing of a fixed amount is required based on agreed terms throughout the loan tenure. Having just one payment date also makes it easier for you to manage your finances.
Reduced interest on the total outstanding amount you owe: Interest charges tend to be significantly lower than the usual credit facilities. Hence, the monthly payment will pay off more of the principal amount than what you were previously paying.
Lastly, you can be assured of achieving financial freedom at the end of your DCP loan tenure!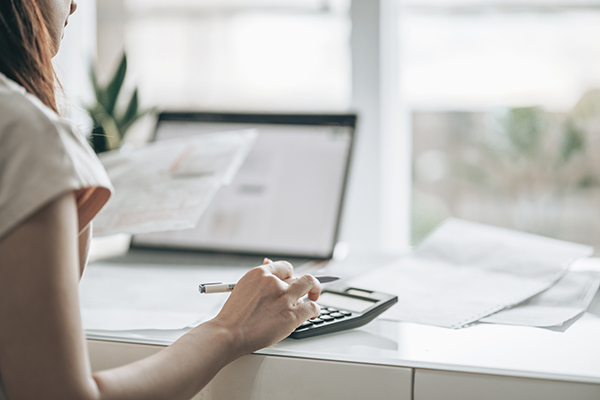 In order to qualify for DCP, you have to:
Be a Singaporean or Permanent Resident above 21 years old;
Earn between S$20,000 and below S$120,000 per annum with Net Personal Assets* of less than S$2million;
Have total interest-bearing unsecured debt on all credit cards and unsecured** credit facilities with financial institutions in Singapore that exceeds 12 times your monthly income
* The term "Net Personal Assets" refers to the total value of the individual's assets less his liabilities. Assets should be substantiated by documents provided by the applicant.
** Excludes renovation loans, education loans, medical loans, travel loans, credit facilities granted for businesses or business purposes and outstanding debts under joint accounts.
Maybank is one of the participating financial institutions and has a team of professional DCP consultants who can offer personalised financial assessments to work out a schedule that caters best to your servicing capacity.

the bottom line:
The golden rule is not to take out a loan beyond your ability to repay. Take the first step towards achieving debt-free by working out a repayment plan.