As the global economy reopens further, enthusiastic spenders will be looking to get their hands on all they have missed out on in the last couple of years. But how do you spend smartly?
Heard of "revenge spending" yet? As more parts of the economy reopen, after two long years of captivity under COVID-19, consumers are making the most of their recently restored freedoms by spending more.
From lavish meals out to shopping, front-row seats to concerts and big trips, many are bent on taking their "revenge" to make up for lost time.
When the borders between Singapore and Malaysia opened on April 1 for the first time in two years, for instance, about 33,700 people crossed the Woodlands and Tuas checkpoints in the first 17 hours alone.
But revenge spending may prove to do us more harm than good if we end up splurging beyond our means. Luxury purchases aside, many small expenses can add up to a big sum too, and careless splurging may end up hurting us more than we expect.
Here are four tips for you to have your revenge and enjoy it too:
1. Create a budget and stick to it
We all get excited in the spur of the moment, especially after being caged up for so long. The danger is when we start opening up our wallets wherever and whenever for impulse buys.
For those travelling, setting a realistic budget is a fundamental rule in money management to guide your spending. This will allow you to enjoy your time abroad with a peace of mind.
In case you run out of cash, use Maybank's online banking or the Maybank2u SG app to activate your Maybank Platinum Debit Card for overseas use and withdraw cash from Maybank ATMs in Malaysia at no additional fees. Another tip: Earn accelerated 3X TREATS Points for every S$5 spent in Malaysian ringgit using your Maybank Platinum Debit Card.
2. Set credit card limits
Before you commit to a big purchase, give yourself a cooling-off period. It can be anything from a day to a week - the goal is to give yourself some time to carefully consider your decision instead of making it based on immediate biases or when you're in a particular emotional state at that point in time.
If you think you're likely to overstep your budget, set a hard limit on your credit card so that your spending doesn't ever spiral out of control. Encourage your family members or friends to do the same too, so that everyone is on the same page.
3. Make decisions that are economically sound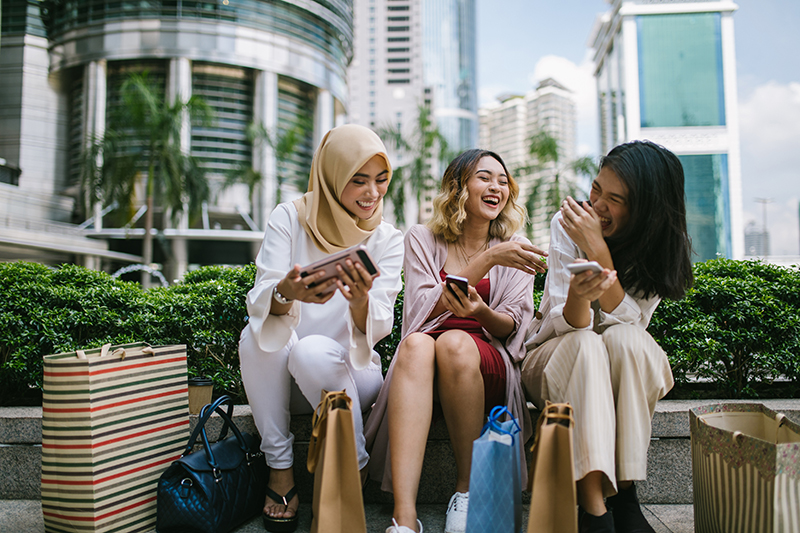 If instalment plans are an option, they can make economic sense, especially if they are interest-free. This allows you to spread out the cost of a purchase, making it more manageable while ensuring you have a cash flow buffer.
For example, Maybank's new cross-border instalment payment plan allows you to split your payments for big-ticket purchases at over 500 participating merchant outlets in Malaysia over six and 12 months, interest-free. Just be sure that the purchase is within your credit card spending limit so that you can then free up your finances for other emergency needs.
If you want to reward yourself with a luxury purchase, don't forget to tap smart financing options like Maybank's Posh Ezypay. This flexible financing solution is available for purchases made at luxury boutiques, both local and overseas. For a small fee, you can spread out the payment for the big-ticket purchase into six monthly instalments.
4. Spend and earn
If you're going to spend, do it the smart way. Keep an eye out for credit card offers that come with rewards so you can maximise your purchase.
For example, Maybank Horizon Visa Signature cardmembers can earn 2 air miles (5X TREATS Points) with every dollar spent on your overseas spending (in foreign currency), while Maybank DUO Mastercard cardmembers can enjoy 5 per cent cashback on petrol in Singapore and Malaysia and 1.5 per cent cashback on overseas spending.
If you hold a Maybank's Family & Friends Card, you get to earn 8 per cent cashback on your selected cashback categories such as groceries, dining, transport, entertainment and more when you charge to your card overseas.
Don't wreck your finances
Revenge may be sweet, but splurging or going overboard may land you in captivity again - this time, a financial one. Thankfully, there are ways to get smart about letting loose and enjoying this economic revival.

the bottom line:
Get your revenge, but do it the smart way, and not at your expense.