Having a trusted financial advisor to provide advice is important on one's financial journey. What are the right questions to ask to kick-start a trustworthy relationship?
It can be a rather daunting experience, revealing your financial situation to a virtual stranger and trusting their advice on how to manage your money.
Financial advisors play a vital role in helping consumers understand and sieve out ways in which they can protect, grow and maximise their wealth. A well thought-out financial plan will ensure that the financial services you opt for works for you and your wealth objectives are met in good times and bad.
The key is in developing a work plan together with your financial advisor for a sustainable and effective partnership. To help you feel more confident when speaking to a financial advisor, we've put together 5 questions you should be asking before you make any financial decision.
1. What experience do you have?
Just as you would ensure that your doctor has the relevant qualifications, your financial advisor should also be someone qualified to provide advice on your finances. Ask the advisor on the sort of qualifications they have, the training they have gone through and their experience.
Financial advisors need to have the relevant Capital Markets and Financial Advisory Services (CMFAS) qualifications and lodge a notification with the regulators, so do make sure that the person you are speaking to is qualified to help in your financial planning and investment journey.
2. What are the fees like?
There are different fees associated with different products. Therefore, it is important to note the fees applicable on the product you are interested in as it will impact the returns on your portfolio.
3. What happens if I decide to withdraw from the product?
What happens to your money? Is there a penalty clause? There are times when your circumstances change and a particular product you had bought may no longer be suitable for your needs. Therefore, it is always important to find out about the worst-case scenario before you purchase the product.
4. What is my risk profile? Is this product suitable for individuals with low, medium or high risk tolerance levels?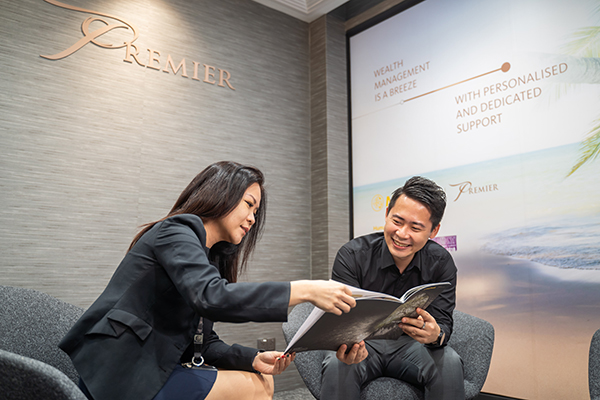 Everyone has different levels of risk tolerance that is dependent on your personal financial situation and life-stage. Therefore, do ensure that the financial advisor makes the effort to learn about your risk-tolerance, investment objectives and financial situation before making any recommendations. The advisor should also be able to explain why the product is suitable for you. For instance, Maybank's financial executives will carry out a financial needs analysis when they first meet with the customer – something you should request for if the advisor you are meeting has not done so.
5. How do I track the performance of my portfolio?
There are varying time horizons for different products. While it may not be necessary to track the performance frequently, it is a good practice to check on the health of the products semi-annually or annually. You might want to ask if the advisor will be your only point of contact, and what is the interval between each review meeting to ensure consistency and accountability of your accounts.

the bottom line:
Talk to a few different advisors and get comfortable with them before deciding.