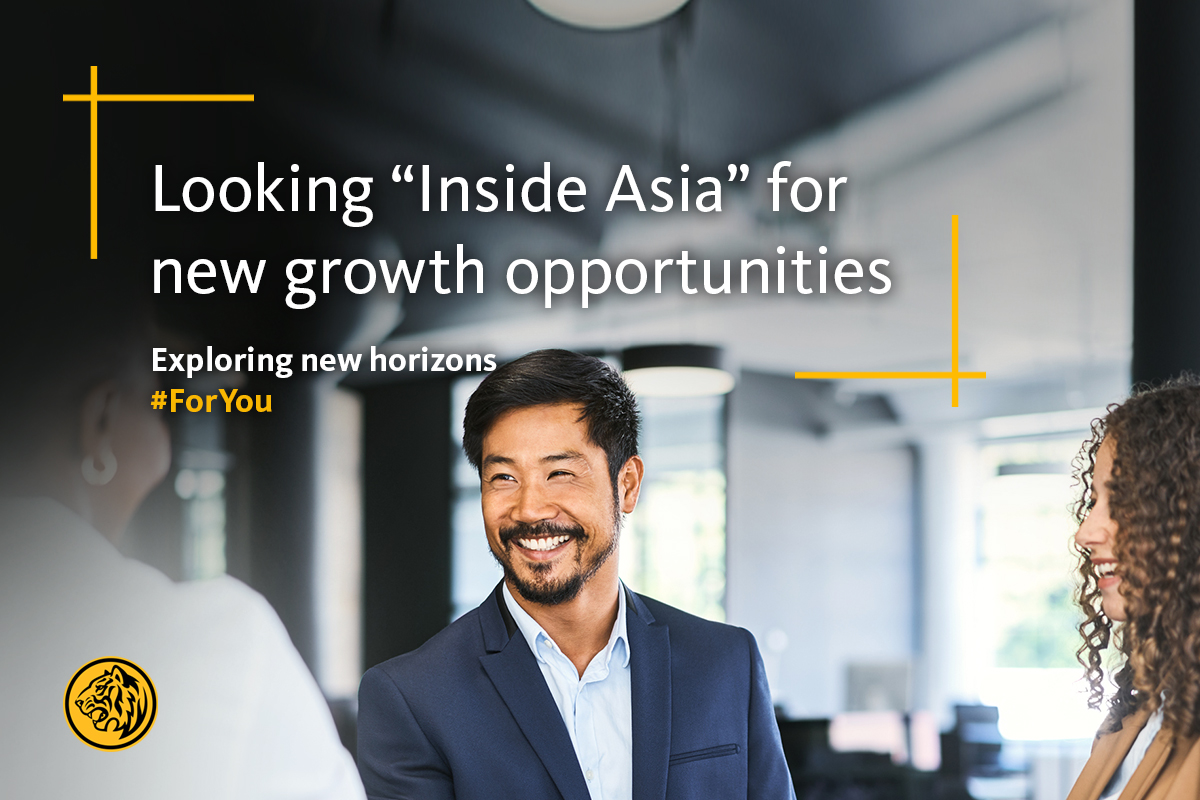 Asia's emerging economies are leading the world out of pandemic recession, with its increasingly affluent consumers taking the baton from overextended counterparts in developed countries. A research paper by Maybank Kim Eng has predicted the ASEAN GDP growth to likely exceed China's next year1 indicating that 'going regional' now offers opportunity aplenty for growth-minded local businesses. Maybank's integrated network can help local clients unlock Asia's growth potential in their regional expansion journey.
Today, Asia is already the world's largest regional economy with constituent economies more closely-knit with one another in trade, innovation, culture, and people flows. In turn, these intraregional flows are rapidly expanding, creating powerful Asian networks with new urban hub and spokes that companies can consider as destinations for future investment.
As businesses continue to evolve to meet the challenges from COVID-19, leveraging "inside Asia" relationships will continue to give the region a competitive edge in the path towards economic recovery. This is especially so for up-and-coming local businesses. Looking closer to home in the region for expansion opportunities could offer many advantages, especially during times of global uncertainty.
Inside Asia – Moving from Resilience to Recovery
The long shadow cast by the pandemic has fundamentally changed the way that businesses and industries operate in the new normal. The global economy has shifted from globalised supply chains which has resulted in growing interdependence within the region. Today, more than half of all trade in Asia occurs from countries within the region, with recent estimates putting the figure as high as 60%2 .
While COVID-19 has curtailed the growth of Asian economies over the past year, India, China, and Southeast Asia remain key drivers of intra-Asia trade. In fact, despite the current slowdown, emerging Asia was the only region that recorded a positive growth rate in 20203.
Asia's well-established digital infrastructure also supports the case for the region to play a leading role from a technological perspective. Economies like Singapore, South Korea and Japan are among the most digitally advanced anywhere. With shorter, more localised supply chains, these markets provide Asian start-ups and small businesses some of the best market environments to operate in.
In addition, the rapidly growing Asian middle class offers the all-important consumers for future intra-Asia business growth. The region's middle-class population is expected to double from 24% today to 51% in 20304, wielding more than USD300 billion in disposable income.
The economic, technological, and demographic prospects for Asia's post-pandemic future thus offer compelling value for local businesses that are looking to gain additional customers and regional market exposure. Now is a pivotal moment for Asia as it moves from resilience to recovery, signalling the growing role it will play as a launching pad for taking homegrown businesses to the global economy.
Key Considerations for Asian Expansion
Finding the right infrastructure and funding is a necessary first step for fresh companies hoping to find their 'big break' overseas. Strong start-up ecosystems have emerged in places like Singapore which sees a boom in Tech start-ups, Malaysia and Indonesia5 seeing an increasing trend in food and beverages (F&B) start-up industries, Vietnam with its growing fintech and e-commerce start-ups, and even lesser-known ones in Bali, and Manila, which have thriving infrastructures including early-stage accelerators, incubators, and funding across stages.
Beyond identifying a market with the right infrastructure, successful implementation of expansion strategies will also require effective capital management.
Meanwhile, continued disruptions from within and outside the region demand expanding businesses to review how they should future proof their operations. Embracing and adopting digital solutions to manage their supply chain and payroll needs are two key themes that regional businesses should focus on to ensure they remain part of Asia's future growth story.
Finally, unlocking working capital in the value chain becomes essential for long-term growth once operations have been established. Supply chains in Asia are inherently complex, and this complexity can translate into higher inventory levels. Inventory optimisation and management of payables/receivables takes on added importance in Asian markets due to their greater level of complexities and uncertainties.
Finding a partner bank that deeply understands both the local and regional landscape will be critical for ensuring new Asian value chains do not turn into costly burden, and instead remain a source of competitive advantage.
How Maybank Helps Local Businesses Go Regional
Committed to uplifting businesses and local communities, Maybank endeavours to support our customers throughout their journey for growth. We combine our local market insights and regional capabilities to support business needs via multiple avenues across our geographic footprint, including financial funding, cash and liquidity management, and capital market advisory.
Both our target and home country teams work closely to provide comprehensive solutions designed around the specific needs and goals of our local clients. Depending on the parentage of their business, we start with a lending relationship through an offshore/onshore structure. Consecutively, this will be supported by a multi-pronged approach from our product solutions, Transaction Banking and Global Markets.
For example, our relationship with an agri-food group of companies in Indonesia started almost a decade ago, grew from a modest working capital facility to include project, capex and acquisition financing to support the group's ventures into regional markets over the years. Today, the group is SGX listed and one of the leading agri-food operators across Indonesia, Vietnam, Myanmar, India, and China.
Maybank's leadership in the region has been acknowledged both regionally and globally by ratings and award bodies, including Asia Money, Global Finance and IFR Asia. Our credentials include being the largest Islamic banking group by assets in ASEAN, as well as the 4th largest in ASEAN by total assets. We are also well-rated by the credit agencies S&P & Moodys at A- and A3 respectively.
Interested in exploring new horizons for your business in Asia? Speak to our team today and get connected to more than 18 countries globally, including all 10 ASEAN nations, with Maybank's award-winning trade and transaction banking services.
Sources
1 https://mkefactsettd.maybank-ke.com/PDFS/237384.pdf
2 https://www.businesstoday.com.my/2020/07/09/five-reasons-why-smes-should-look-to-intra-asia/
3 https://www.scmp.com/comment/opinion/article/3096517/coronavirus-recovery-opportunities-abound-small-businesses-asia
4 https://www.weforum.org/agenda/2020/07/the-rise-of-the-asian-middle-class
5 https://www.vertexventures.sg/news/indonesia-s-evolving-f-b-industry-amidst-the-pandemic-the-f-b-industry-emerged-as-one-of-the-most-resilient-sectors-through-digitalization/