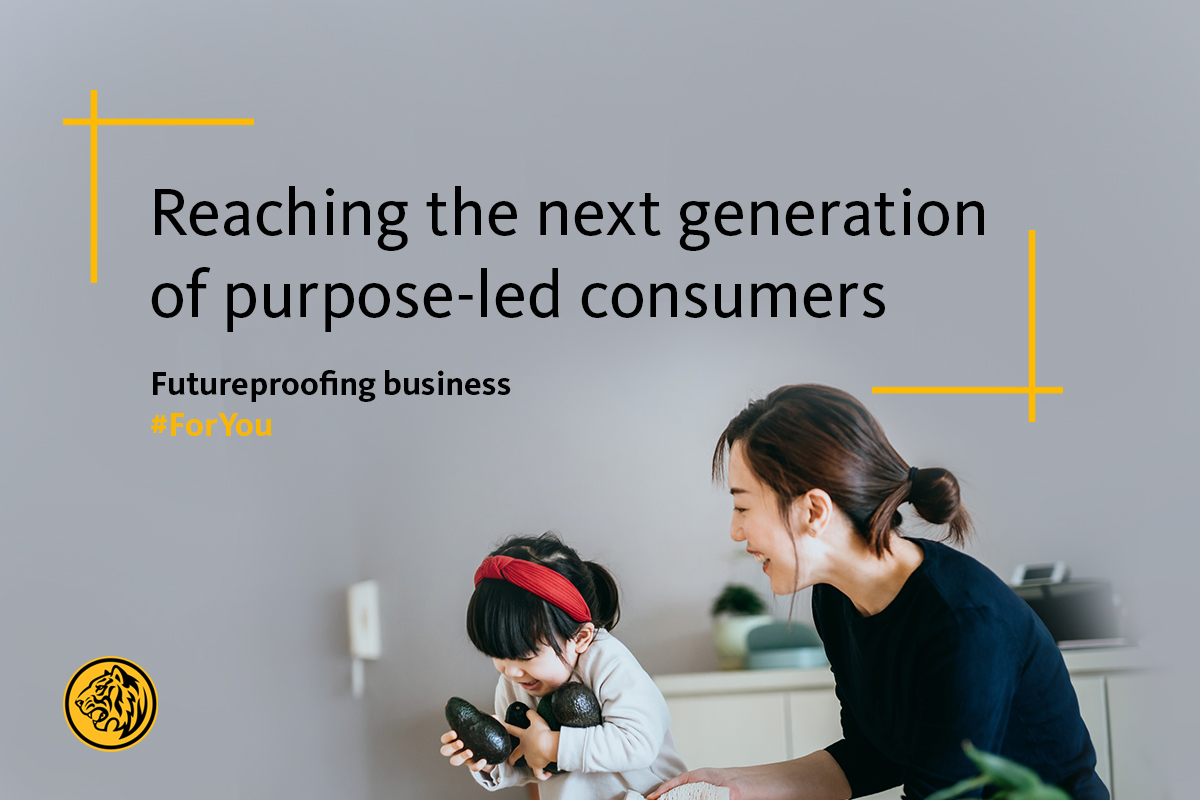 As they head into their prime spending years, millennials and Gen Z are poised to reshape the world economy. Their unique experiences and strong interests in social and environmental causes will change the ways we buy and sell, forcing companies to examine how they do business for decades to come. Sustainability which looks at meeting the environmental, economic and social needs is now critical for businesses to capture the attention of this rising 'woke' generation.
Sixty percent1 of 1.8 billion millennials and Gen Z globally, reside in Asia. One in every two upper-middle-income and above households is expected to be in Asia, and one in every two transactions globally to be made by consumers from the region. Asian consumers are expected to account for half of global consumption growth in the next decade, offering a USD10 trillion opportunity2.
Growing up in a digital-led era, and having experienced economic shocks, a gruelling pandemic and witnessing climate havoc on habitat, the next generations of Asian consumers are also increasingly more health conscious, socially aware, and environmentally responsible. They do not shy away from, and proactively discuss the topics of equality, mental health, and climate change, which is evident from appearances at the recent COP26 conference in Glasgow.
Companies today are thus expected to be responsive to these sustainability demands by adapting their business models to deliver good social and environmental performance, if they want to bring millennials and Gen Z on board to secure their future growth.
Keeping up with the next generations
Research shows millennials and Gen Z are looking for companies to lead the way in sustainability — 81% of those under 303 believe brands are an essential part of the solution for the global challenges facing humanity today. Additionally, they want businesses to create change with them, not just for them — 85% want to share their ideas and experiences to help develop better solutions.
Next generations are also rewarding responsible companies by investing in them – millennial investors contributed USD 51.1 billion to sustainable funds in 2020 alone4. On the flip side, businesses that do not operate sustainably can find themselves on the wrong side of viral social media campaigns, as millennial consumers are quick to organise against them.
For instance, facing pressure from customers over low wages in their supply chain, Swedish fast-fashion house Hennes & Mauritz (H&M) was forced to improve transparency by launching a new website tool that lists details of their product suppliers and factories. Meanwhile, McDonald's has said it will shift to using 100% cage-free eggs by 2025 in the U.S. and are increasing the number of vegan items on global menus.
These examples show that the corporate world can no longer ignore the demands and expectations of the next generation of consumers, who are devout in their desire to associate with businesses aligned with their personal values. Companies must adapt their business models now to deliver good social and environmental performance if they want to bring millennials on board.
Sustainability matters for continued growth
Engaging the next generations growing up with the Internet has never been an easy task, as they are more well-informed and actively want their voices to be heard. Corporate sustainability efforts can either build brand loyalty, raise awareness, and strengthen reputations – or they can have precisely the opposite effect, if companies are not being honest.
Thus, building credibility and authenticity must always come first in corporate sustainability efforts. Millennials and Gen Z consumers will use social media to punish companies who simply pay lip service to causes that are important to them. Businesses must do more than just place an ethical gloss to existing practices. Instead, they need to learn to fully embrace the values and priorities of the next generations.
The key to winning over millennial and Gen Z consumers is to narrow the gap between intentions and actions via purpose-driven initiatives. What's more, by harnessing the power of social media, even small campaigns can create a big impact. The recent collaboration between barePack and FoodPanda5 in Singapore for instance sparked national discussions on the use of single-use cutlery and plastic packaging.
Businesses also need a more detailed understanding of consumer needs and behaviours to create targeted sustainability campaigns. Fortunately, since next generations live on digital channels, there is a wealth of data that can be leveraged for more purposeful engagement. Businesses should design their sustainability efforts using data-driven insights gained from their digital customer engagement channels.
Teaching "an old dog new tricks", as they say, is not an easy transition, but it is not impossible either. Businesses must integrate sustainability across all operations if they are to capture a rising generation of millennial and Gen Z consumers. By doing so, not only will businesses see newer faces around the office, but newer perspectives for embracing growth in the 21st century as well.

Futureproofing business with ESG and digitalisation
As a leading financial institution in ASEAN since 1960, Maybank deeply understands the inter-generational changes taking place in the region. Having children, buying homes, and other traditional signals of adulthood 'success' no longer tops the list of ambitions for the next generations. Instead, they are more attracted to making a positive impact for their communities and the natural environment.
The demand for a better world among next generations is understandable, given the fact that it is their generations that will bear the brunt of climate change and worsening social inequalities. Furthermore, an increasingly global perspective and awareness due to social media have led millennials and Gen Z to favour sustainable businesses.
To meet these changing expectations, Maybank's five-year strategy, M25 Plan, infuses elements of digital and sustainability. From savings accounts, investment portfolios to trusts and legacy planning, we are future-proofing all our product and service offerings with data and digital-led propositions that can empower the new technologically savvy generations to build a better future.
To delve deeper into our sustainability journey, we have also developed business approaches and risk acceptance criteria for targeted sectors. Our Environmental, Social and Governance (ESG) Policy provides a framework to be selective in our lending and investment decisions based on key ESG principles, while also encouraging sustainable-focused initiatives among our employees.
With our strong experience in both sustainability and digitalisation, Maybank is well-positioned to help businesses reach the next-generation of purpose-led consumers. Our expert ESG guidance and support in 18 countries globally, including all 10 ASEAN countries, can help companies in the region future-proof their operations by further integrating ESG factors into existing business practices.
Sources
1 MSCI, "Millennials: Demographic change and the impact of a generation" (2020)
2 McKinsey Global Institute, "The trailblazing consumers in Asia propelling growth" (2021)
3 GlobeScan, "Healthy & Sustainable Living" (2021)
4 MSCI, "Swipe to Invest: The story behind millennials and ESG investing"
5 Green Queen, "Foodpanda Singapore Partners With BarePack To Bring Reusable Packaging For Food Deliveries" (2021)