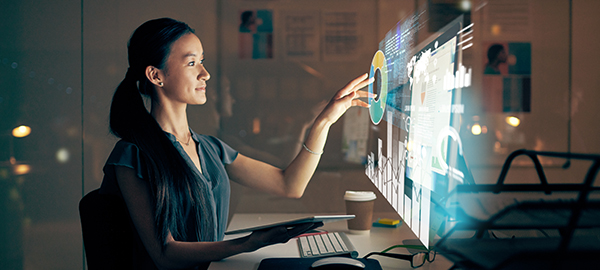 Technology is the gateway to consumer convenience, but it holds an even more important role for businesses. If properly harnessed, it can help businesses achieve greater operational efficiency and grow at their maximum rate of potential.
The World Bank says SMEs account for up to 90% of businesses and more than 50% of employment worldwide. Given that statistic, it is easy to say economic advancement strongly depends on the rate of tech adoption by SMEs. However, emerging technologies can appear foreign and daunting to SMEs, especially because of the potentially serious ramifications for smaller businesses if they are not applied properly.
If technology has a vital role to play in the world of SMEs, it must be in business cash flow management. Cash flow is a company's lifeline: from enabling faster payments to facilitating smoother communication between supplier and customer. It is no surprise that almost 60% of smaller businesses in a survey by IDC said new technology has allowed their enterprises to streamline operations and improve productivity, including improving cash flow. Small business owners no longer have to be involved in jobs such as payroll processing. But they can also benefit from improved accuracy and orchestrate faster payments.
Business owners should ask themselves what technology they can leverage to help maintain optimal cash flow and whether the banks that support their cash flow management are themselves tech-leveraged.
One area of emerging technology proving particularly beneficial to improving cash flow is artificial intelligence (AI). AI's ability to digest vast amounts of data from various sources with human-like understanding and at rapid speed can create easier sign-off processes, improve business analytics and simplify tedious tasks, like the payroll process. AI has been shown to add value to SMEs, in the shape of machine learning-driven analytics and automation, which help to monitor cash flow and enhance decision-making.
Cloud-based technology is another increasingly prevalent trend that can be extremely useful for accounting and have a drastic impact on business operations. By storing accounting data in the 'cloud' using compatible software, clients can enjoy access to it via any device that can connect to the internet, anywhere in the world, and at any time. This is not only cost-effective, but also allows for better time management and flexibility for staff. More than eight in ten SMEs (82%) now use some form of desktop or cloud-based small business accounting software as part of their cash flow management, according to a survey of 5,000 SMEs in the U.S., conducted by online invoicing provider Viewpost. A Microsoft India survey focusing on SMEs found that adopting cloud technology helped companies improve their chances of better market access and profitability by as much as 308%. This was attributed to what the survey called the "dexterity and flexibility" allowed by cloud usage.
While the benefits are undisputed, drawbacks remain. Thanks to increasingly interwoven webs, security and data protection issues are expected to become more prevalent in the future. Research from Cisco says that at least two-thirds of cyber-attacks are aimed at small businesses.
Maybank SME Banking adopts technologies for banking convenience while at the same time protect SMEs' cash flow from security attacks. This gives business owners peace of mind and the chance to primarily focus on growing their business with a reliable banking partner. Security protection at Maybank is a combination of a variety of security systems that provide monitoring measures for online transactions including firewall systems, data encryption and continuous security reviews monitoring any suspicious account activities. Such emphasis on client data and security protection is what has helped to put Maybank at the forefront of ASEAN's SMEs.
"For over 60 years, Maybank has positioned itself to be a leading SME financier within the ASEAN region," said Marc Leong, Head of SME Banking at Maybank Singapore. "SMEs historically have often felt underserved by banks in various aspects. One way we humanise is to play a stronger role in this segment by devoting and allocating resources to ensuring these businesses are well protected against cyber-crime, attacks and fraud."
But security protection is not the only way that Maybank assists its SME clients. Through partnering with business platform Financio, Maybank offers dedicated automated cloud accounting software for small businesses with little to no accounting experience. Financio generates financial reports as well as invoices and tracks the closing of sales, while supporting multiple currencies. Business owners benefit from the ease of dealing with their business receivables and payables and can build long-term business capabilities.
"Financio helps me to issue invoices to my customers, with all of the information presented in a very detailed and clear manner," says Gloria Soh, the owner of dance schools in Singapore. "This puts my mind at ease, knowing my finances and admin is in good order."
While implementing new technologies can be daunting, especially for SMEs, it is a key tool for increasing efficiency and profits, both of which are vital to better cash flow management and ultimately to business success. Maybank's aim is to help small businesses with big ambitions grow by providing optimal banking solutions that leverage the rise of new technologies.
If you like this article and wish to know more, connect with us here.
To help SMEs tide over this challenging period, Maybank, as Asia's leading financial institution since 1960, offers SME Loan Repayment Relief Package and provides support to Medical Care and F&B Merchants. Click here to find out more.
Keep Reading