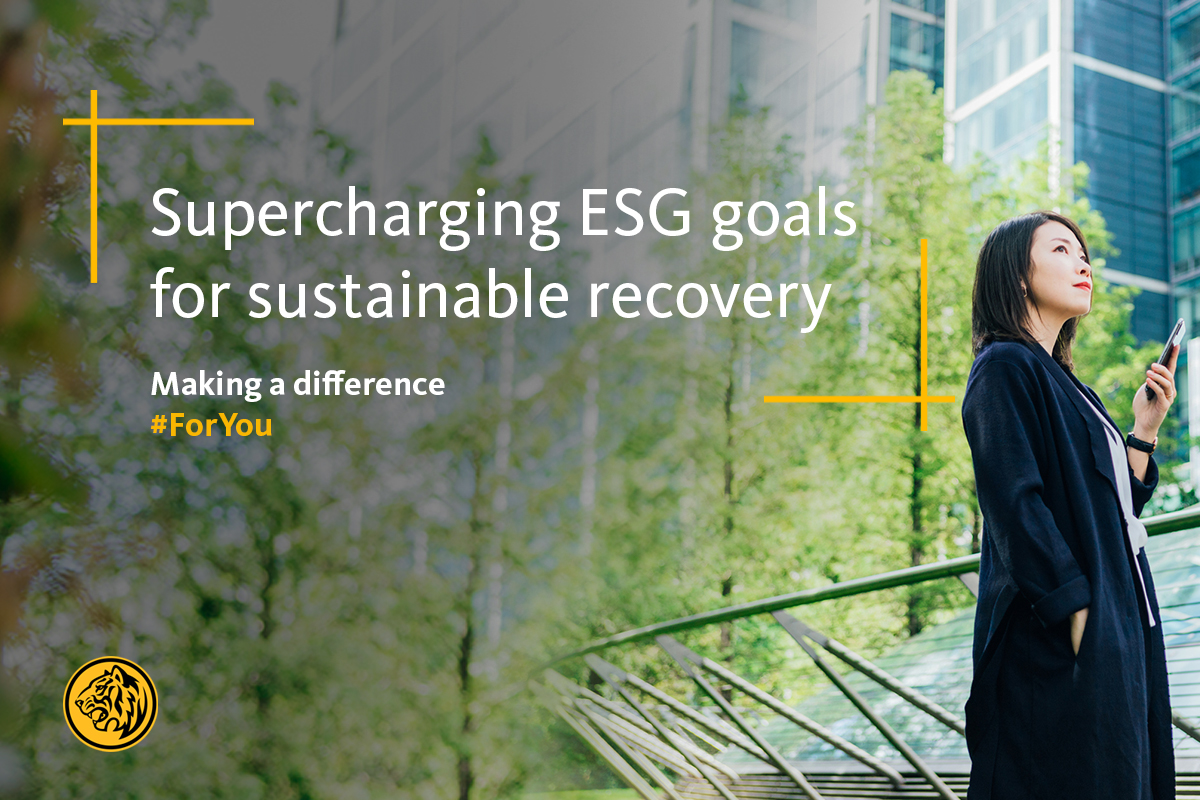 Putting off environmental, social, and governance (ESG) goals until the world is "back to normal" is risky business. The COVID-19 crisis is profound and far-reaching, and the difficult decisions that businesses make today will define their tomorrow. Maybank strive to help clients make the right ESG choices to future-proof their businesses and generate long-term value from sustainability.
Influential management thinker, Charles Handy, famously metaphorised in his 'Age of Unreason' that "if you put a frog in boiling water and slowly heat it, the frog will eventually let itself be boiled to death". This can be reflective of our response to issues on sustainability – if we do not act now, the impact on our world and our businesses could eventually become irreversible.
A year and a half after COVID-19, the world economy is poised to stage the most robust economic recovery in 80 years1 , and there are many directions this recovery could take. But a global consensus is emerging that an ESG-focused recovery will be the most sustainable as the pandemic has reinforced that the environmental risks are now too great to ignore.
Fortunately, in every crisis also lies the seed of opportunity, and for businesses – the benefits of ESG integration goes beyond risk management. Companies that demonstrate strong ESG performance can build long-term revenue streams, even during economic downturns. ESG integration is becoming a compelling strategy for building resilience, at the same time unlocking value for sustainable growth.
How ESG takes centre stage in a post-pandemic world
At the onset of the pandemic, sceptics started raising concerns that ESG issues would soon fall to the wayside. However, precisely the opposite has proven true, as COVID-19 has only fanned the flames of ESG's rising momentum.
According to Morningstar, net inflows into global ESG funds reached a staggering USD 323.2 billion in the first half of this year alone2 , which is nearly twice the total amount for the entirety of 2019, the year the pandemic started. Meanwhile, a 2020 survey by MSCI in the Asia-Pacific region found 79% of respondents had increased their ESG investments3 as a direct result of COVID-19.
ESG principles came into the pandemic with a full head of steam, and their dramatic growth throughout 2020 has vanquished any lingering scepticism. It also reflects an important silver lining from the trauma: companies that score well across ESG criteria tend to be more resilient in their recovery, in turn having the potential to outperform the market. This has been proven as Bloomberg highlighted that even during the wake of the COVID-19 sell-off last year, the average ESG fund only declined by 12.2%,4 less than half of the decline of more traditional stocks in the S&P 500.
The pandemic is hence the first real proof-point to suggest that "virtue pays", underlining the fact that ESG integration does not come at a cost, but potentially leads to more resilience and long-term performance.
Capturing the value of sustainability
At the start of their sustainability journey, one key question for executives to address isunderstanding the difference between an ESG initiative that produces business value, and one that does not. Companies with value creating ESG initiatives tend to apply a set of best practices that set them apart from the rest.
Firstly, value creators exhibit a strategic, purposeful approach to ESG by understanding which business practices can be most closely linked with material impact. Instead of passively reacting to new industry standards or regulatory requirements, businesses that create long-term value from ESG proactively align their organisational goals, mission, or values to make a positive impact on clearly defined issues.
Next, businesses that create value from ESG also prioritise employee engagement as a more important element in their sustainability agendas. Value creators provide all employees with training on integrating sustainability practices into their work. Some even provide incentives, going as far as considering sustainability performance when making decisions about employees' compensation.
Just as value creators engage employees in sustainability programmes, they also put more effort into understanding consumers' sustainability expectations and responding with the required changes. For instance, some companies seek customer input on the sustainability attributes of their products and services via focus groups or surveys, highlighting those attributes in later marketing and sales efforts.
Finally, leaders in sustainability value creation make ESG a priority when engaging with suppliers, manufacturers, distributors, and other value-chain partners. By forming coalitions with allies and working together to set new standards, promote innovation, and advocate for policy changes – businesses can address industry-wide challenges that in turn would materialise in long-term, sustainable impact.
Maybank at the Heart of ASEAN Sustainability
For Maybank, sustainability is integral to building our resilience and unlocking new opportunities for value creation. Our ESG Policy provides a framework to be discerning in our lending and investment decisions based on key ESG principles. As of March 2021, 5.4% of our loan exposure was classified as ESG vulnerable sectors5 .
As a regional leader in financial services, Maybank also recognises the need to connect the dots between businesses, governments, and sustainability experts across ASEAN. Since 2019, our ESG Industry Scrum teams have hosted knowledge-sharing sessions with clients from multiple industries to identify opportunities for ESG integration into their existing business practices.
Further to these responsible lending and capacity-building initiatives, Maybank also offers targeted financing focused on supporting lower-carbon energy solutions and green technology. Throughout last year, we approved loans more than USD816 million for renewable energy projects. We also track our direct environmental impact, including the carbon footprint of our Malaysian and selected Singaporean operations.
In May 2021, we have also set out 4 key sustainability commitments in our path to become a regional ESG leader. Among these commitments include mobilising more than RM50 billion (USD12 billion) in sustainable finance and delivering more than 1,000 significant UN-SDG outcomes across ASEAN by 20256 .
As we position ourselves to build on our successes for the future, Maybank is committed to helping businesses make a difference where it truly matters. Through our expert ESG guidance and support in 18 countries globally, including all 10 ASEAN countries, we are dedicated to helping our clients transition their business strategies towards sustainability so we can all thrive in a more prosperous tomorrow.
From renewable energy to supply chains, Maybank can help your business achieve its sustainability goals. Find out more about our ESG expertise by getting in touch with us here.
Sources
1 https://www.worldbank.org/en/news/feature/2021/06/08/the-global-economy-on-track-for-strong-but-uneven-growth-as-covid-19-still-weighs#:~:text=A%20year%20and%20a%20half,as%20many%20developing%20economies%20lag
2 https://www.morningstar.com/content/dam/marketing/shared/pdfs/Research/global-esg-q2-2021-flows-report-final-numbering.pdf?utm_source=eloqua&utm_medium=email&utm_campaign=&utm_content=27223
3 https://www.msci.com/documents/1296102/22910163/MSCI-Investment-Insights-2021-Report.pdf
4 https://www.bloomberg.com/news/articles/2020-03-13/older-esg-funds-outperform-their-newer-rivals-in-market-tumult
5 https://www.nst.com.my/business/2021/07/710258/maybank-leads-esg-space-sustainability-focused-products-services-hlib
6 https://www.maybank.com/iwov-resources/corporate_new/document/my/en/pdf/corporate-news-release/2021/Maybank_Unveils_M25_Plan_to_accelerate_growth.pdf