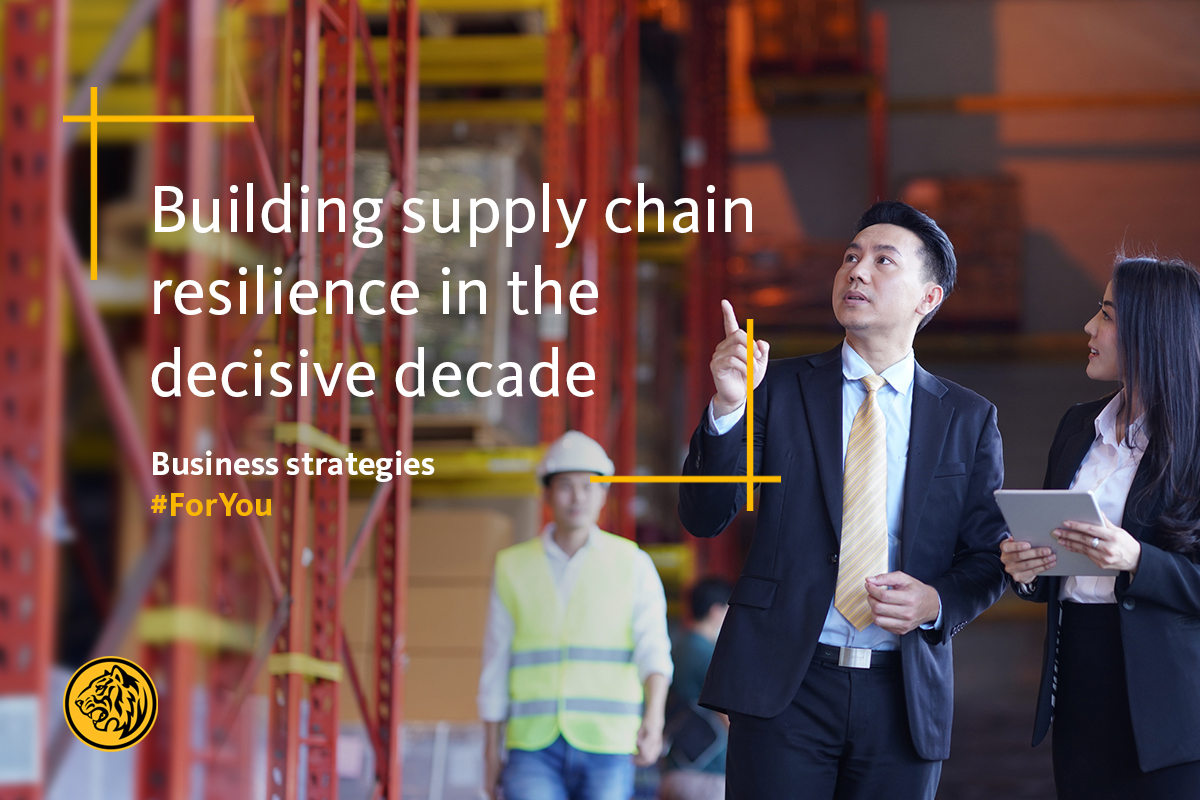 The COVID-19 outbreak served as a true litmus test for supply chain resilience in markets around the world, providing a wake-up call to all. In a survey of 200 global manufacturers1 by the Digital Supply Chain Institute, executives ranked resilience among their top supply chain goals. Only 36% ranked cost reduction as a top three goal, down from 63% who saw it as a priority three years ago.
The quest for greater pandemic resilience, coupled with concerns over US-China trade tensions, are compelling more and more multinational companies to move their supply chains out of China and into Southeast Asia. Competitive costs and rising regional growth make our region a viable alternative to China, turning it into one of the biggest beneficiaries of the reconfiguration in global supply chains.
ASEAN needs to build on its strategic advantages to capitalise on this shift going forward. Companies in this region will need to incorporate sustainability considerations and digital technologies if they are to continue playing a role in the supply chains of tomorrow. With our unparalleled ASEAN network presence and insights, Maybank can help support our clients in making this journey.
Positioning for the changes in Asia's supply chains
After COVID-19, the world is now seeing how opaque the global supply chain really is, which makes it vulnerable to major and unexpected crises. The existing commodity market has been designed to provide high-quality goods, but it has the downside of price volatility and a lack of transparency. We urgently need a supply chain model and procurement practices that are more transparent and more resilient.
EY's survey of supply chain executives across different sectors in late 2020 found 85% of respondents are more focused on environmental and sustainability goals (ESG)2 in the aftermath of COVID-19 as part of strategies to gain competitive advantage and future-proof their supply chains.
Nowadays, most investors prioritise information on companies' ESG performances, more employees only want to work for companies with sustainability built into their mission statements, and more customers have changed their expectations for sustainability, leading to increasing regulation and policy. Moving forward, this will be here to stay.
To navigate these micro and macro trends, and possibly future disruptions, corporates must start rethinking their supply chain strategies and determine the right level of resilience they are prepared to build into their value chain, ensuring that this is embedded throughout research and development, planning, and execution. While considering factors like market access, economic performance, policy and regulations, among others, resilience through sustainability and digital technologies have become key objectives for leadership teams.
Building resilience with capital, connectivity, and sustainability
There are three major ways Maybank has helped companies in pioneering the shift to building supply chain resilience, as well as move into sustainable practices: our capital, our connectivity, and our insights.
The investment required for building and maintaining resilient supply chains will vary depending on a company's needs. Through our end-to-end cash management services for working capital as well as comprehensive range of Trade & Supply Chain Financing solutions, Maybank helps companies determine how much resilience they need to boost their sustainability focus and digital technologies, identify their key priorities and analyse what they can afford.
Beyond our integrated transaction banking and supply chain financing services, Maybank's decades worth of experience in ASEAN markets empowers us with unique insights to help clients navigate the regulatory and business landscape, as well as identify best practices to uphold in their transformation. Our ESG framework also enables us to work together with stakeholders across all tiers of the supply chain to implement climate, environmental, and social commitments while ensuring our clients are abreast of the latest technological trends available to deliver this.
The trade outlook for the region, and indeed for the world, is moderate over the near term. Over the longer term, however, Maybank sees many reasons for optimism. With a solid commitment to build resilient, technologically advanced supply chains that operate sustainably, we believe corporates in the region can be well-prepared to take advantage of new opportunities in the months and years to come.
To learn more about how Maybank can support companies with their supply chain sustainability and resilience, please reach out and connect with our team here.
Sources
1 https://www.bain.com/insights/shock-proof-how-to-forge-resilient-supply-chains/
2 https://www.ey.com/en_my/supply-chain/how-covid-19-impacted-supply-chains-and-what-comes-next