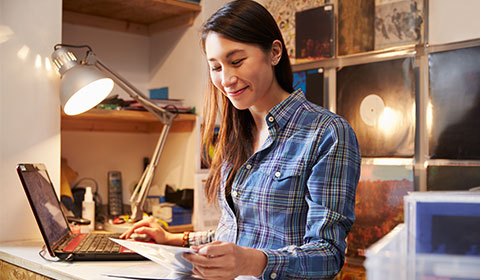 Which banking services do small businesses need most over their first five to ten years of growth?
"I remember being asked that exact question just after I started my company," recalls an SME founder and managing director operating across the Asia-Pacific region.
"It was my first meeting with my banking relationship manager. He asked which services I thought I might need initially so I turned the question back on him and said: 'Please will you tell me?'"
It quickly became clear to this small business boss that what she needed most from her bank wasn't a commercial account that she could keep an eye on from her smartphone, a set of corporate cards for her senior team, an operating cash flow loan nor an invoice financing service – although all of these quickly became essential to her business – it was a relationship manager she could trust for advice on which banking services to put in place immediately and which to start thinking about for down the track, as her needs changed.
All small businesses have three big banking challenges, according to Maybank. These are: having only a handful of people to look after their finances; being agile enough to meet their ambitions; and difficulty in forecasting performance.
In terms of the first challenge, SMEs might have a bookkeeper or a small accounts team. But they won't have a treasurer watching their cash flow or a CFO thinking about how to finance their growth.
The company's banking relationship manager therefore becomes crucial to helping them predict their needs and keep their business running smoothly.
Secondly, SMEs that wish to be competitive must aim high and move fast. It's thus not surprising that Maybank has adopted a tagline of 'Small Business Big Ambitions' for this fast-developing sector.
Maybank's relationship managers (RMs) seek to support those aims and bring them to fruition as quickly as possible. Importantly, new technologies are now enabling small businesses to realise these big ambitions with greater scale and speed than ever before, and Maybank is matching this trend by also innovating and customising its solutions at speed.

The third big challenge concerns unpredictability. Larger companies can draw on past performance data to predict sales and growth but smaller companies – especially fast-growing ones – find their revenues and expenses changing dramatically year-to-year.
In the absence of data, smaller companies must rely more on experience, which is why having established RMs with long histories at Maybank is so valuable to customers.

It's something Maybank is very proud of: Maybank believes that humanising banking is the most valuable investment it can make for its customers. It looks after its colleagues, so they stay with the bank over a long time, building knowledge they can pass on to their customers and building relationships, so they can act as true partners.
Their efforts have been recognised with a Gold Award for Human Capital Development and a People's Association Award for Community Spirit.
Maybank's colleagues are encouraged to work as a team so if one RM has experience that's relevant to a particular type of company he or she can be brought in by another RM to help their client.
"There has never been a greater time than the present for banks to customise solutions through the digitalisation of financial services; embracing elements of speed, convenience, relevance and accuracy," says Marc Leong, Head of RSME Banking at Maybank Singapore.
Leong calls this 'Humanising Financial Services in the Millennium Era' – helping its customers to identify their needs and then embracing technology, and a fast-growth spirit, to help make that customer's ambitions possible. This has become a mantra for the service that Maybank is offering its SME community.
If you like this article and wish to know more, connect with us here.
Keep Reading