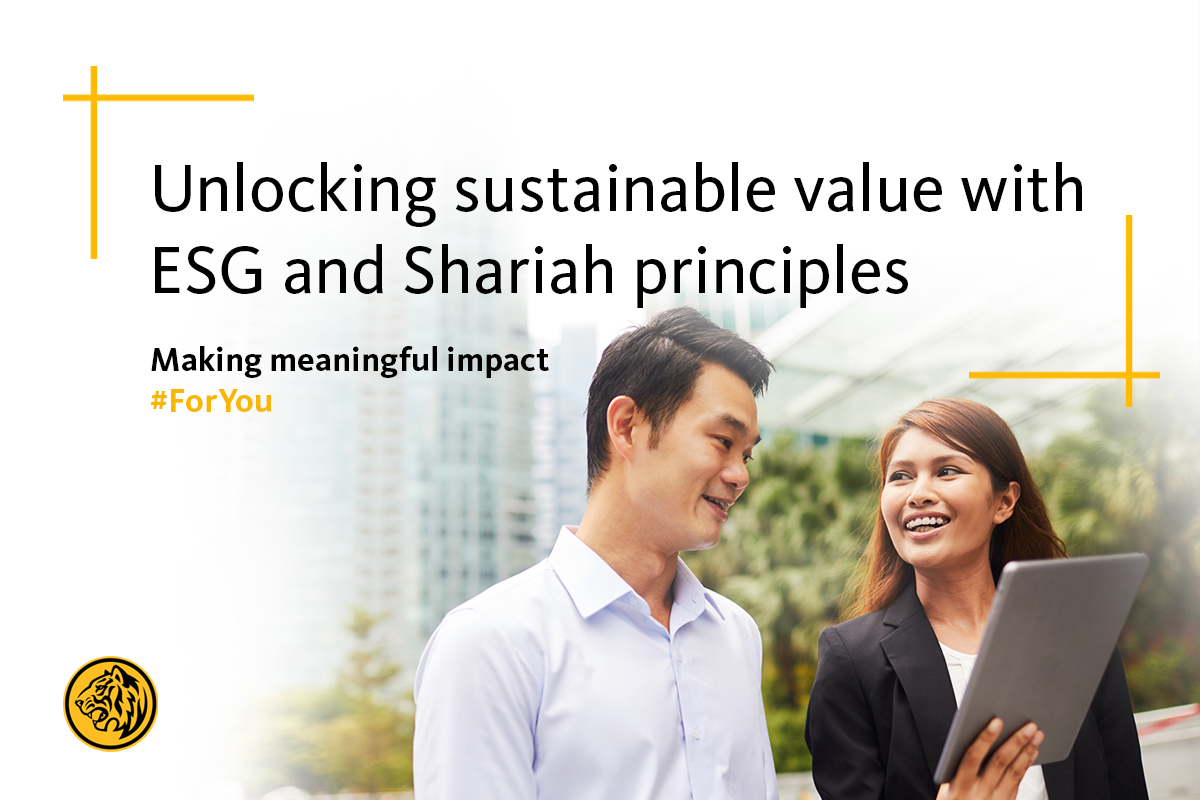 Sustainable finance, the practice of incorporating environmental, social and governance (ESG) principles into key business and investment decisions, is fast making headway in the new normal. Maybank believes Islamic finance can help investors and companies broaden the opportunities available for making meaningful impact, while securing positive long-term growth and returns.
ESG matters have been a burgeoning focus shaping the global agenda for businesses, governments, and individuals throughout the past decade. Today, the ongoing COVID-19 pandemic has only emphasised the relationship between the health of communities and the environment, leading to an accelerated paradigm shift towards sustainability in the financial industry.
COVID-19 has served as the first real proof point to suggest that "virtue pays", as companies realise that doing good for the environment can also bring positive impact for their communities, investors, customers, and bottom-lines. A 2020 survey by global investment research firm MSCI in the Asia-Pacific region found 79% of respondents had increased their ESG investments 1 as a direct result of COVID-19.
Sustainability is thus becoming the 'new normal' with more investors and companies choosing to deploy ESG filters when making key decisions, especially during times of crises. According to Morningstar, net inflows into global ESG funds reached an impressive amount of USD 323.2 billion in the first half of 2021 alone2, which is nearly twice the total amount for the entirety of 2019.
This accelerated growth in ESG momentum presents a unique opportunity for bringing together sustainability and Islamic finance. Maybank believes the synergies between ESG and Shariah principles are vast, making their convergence inevitable and opening a much wider choice for those looking to capture opportunities in the broader sustainability space.
Shariah principles strategically aligned with ESG considerations
Contrary to popular belief, Islamic finance is not restricted to Muslims only. Although predominantly used in Muslim-majority countries such as the Middle East and Southeast Asia in the past, it is now gaining traction even outside of Islamic jurisdictions. According to the International Monetary Fund (IMF), global Islamic financial assets are estimated to have grown over USD 2 trillion in the past decade alone3 .
There are many underpinnings of Shariah principles aligned with the mainstream ESG movement, including the promotion of ethical values. Islamic finance calls for justice, empowerment of all stakeholders, environmental responsibility and fair-trade dealings – notions that are also at the heart of all ESG criteria.
New ESG investors are often concerned about the financial benefits of subscribing to Islamic finance. They can find relief in knowing that Shariah-compliant funds display more stability compared to conventional funds. In the wake of the COVID-19 sell-off last year, Islamic funds in the Asia-Pacific region returned 10.85% as of August 2020, whereas their conventional counterparts returned only 1.67%4.
Shariah funds tend to outperform conventional ones due to their lack of exposure to industries that are deemed unlawful or unethical, such as tobacco, alcohol, weapons, and gambling. This practice of screening out unethical stocks and activities is also adopted in sustainable finance – many sectors which are excluded under Shariah law are also underweighted or excluded from ESG portfolios.
Due to the global movement for adopting more ethical approaches, coupled with the need to tackle new pandemic-era social and environmental challenges, the number of Islamic funds to be launched by governments and corporates is only expected to rise in the coming years. S&P Global Ratings projects global issuances of Islamic bonds to reach USD 155 billion this year5, up from USD 140 billion in 2020.
With valuations turning more attractive, Maybank sees 'now' as an opportune time for both investors and companies to subscribe to Islamic finance solutions. With an array of both ESG and Shariah-compliant instruments spanning different asset classes such as equities and sukuk, Islamic finance offers opportunities aplenty for making a meaningful impact while reaping risk-adjusted growth and returns.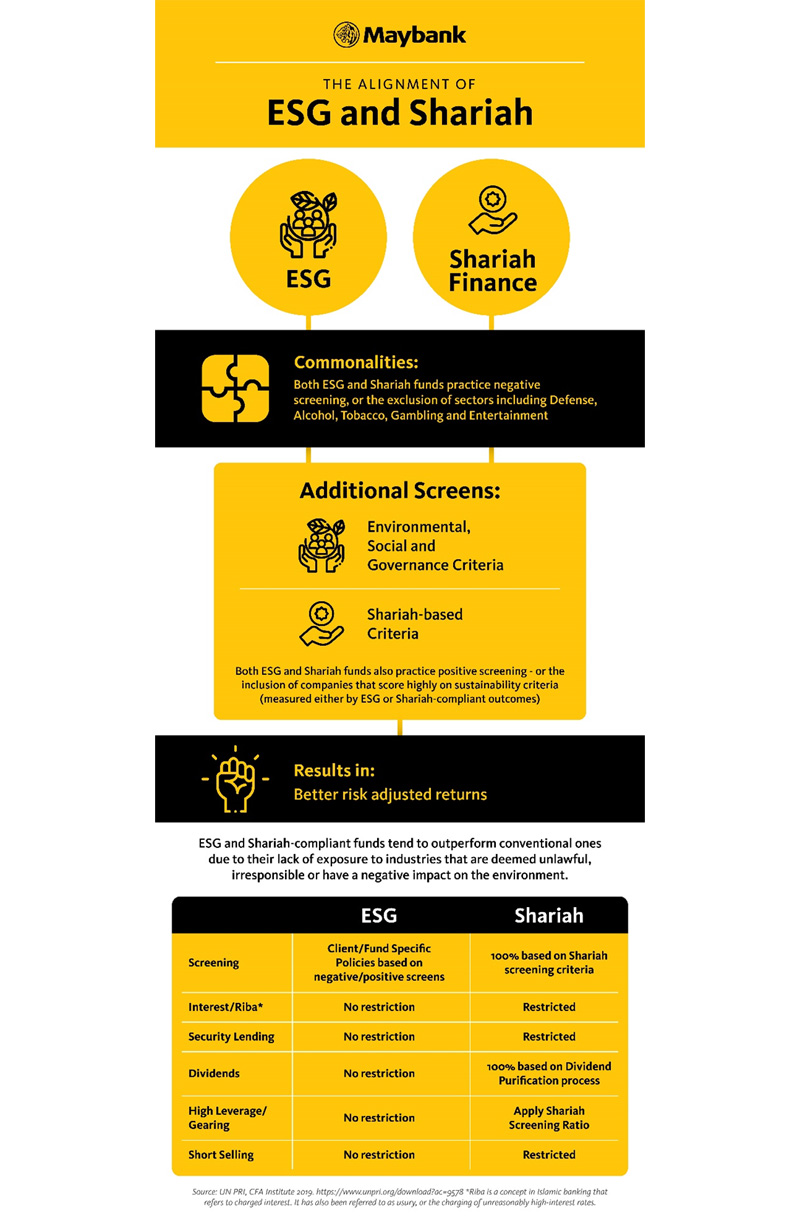 Unlocking sustainable value with ESG and Shariah principles
For Maybank, both ESG and Shariah principles are central to our endeavour to use finance in a way that benefits the lives of communities around us, the core of our mission to humanise financial services. Both principles guide our commitment to being responsible corporate citizens by establishing sound governance, strict internal controls, and effective risk management. This enables us to ensure the integrity of our operations while creating long-term and sustainable value.
We launched Singapore's first Shariah-compliant balanced fund recently in October 2021 6, and our first sustainable equity fund last year which integrates ESG factors into the decision-making process of investing in a portfolio of Shariah-compliant equities and securities. We also offer a wide range of Islamic banking facilities, delivering solutions embedded with unique features like resilience, certainty, and transparency as per Shariah principles to benefit and protect our clients.
Our Islamic financing solutions are especially focused on supporting green and renewable energy projects. Last year, we were the principal advisor for the Republic of Indonesia's USD 2.5 billion in global sukuk for the financing of green projects. We were also the joint mandated lead arranger for Malaysia's Axiata, offering USD800 million in syndicated Islamic financing for its sustainability-linked initiatives.
In Singapore, Maybank recently partnered with the Royal Group of Companies to provide the world's first Islamic green financing for the hospitality sector. The total financing of S$250 million will be utilised by Royal Group to ensure ethical, responsible, and sustainable development of the upcoming Raffles Sentosa Resort as well as the existing Sofitel Singapore Sentosa Resort & Spa.
Building on our successes for the future, Maybank will continue to offer a wide range of Shariah-compliant products and services to all new and existing customers across our business lines for individuals, small and medium enterprises, and large corporates. We will also look towards digitalising our existing Islamic products and services by leveraging on Maybank Group's digital transformation journey.
Maybank has been offering Islamic banking products and services in Singapore since 2005 and holds the #1 position as preferred Islamic financial institution. To find out more about our Shariah-compliant products and services, click here.

1 https://www.msci.com/documents/1296102/22910163/MSCI-Investment-Insights-2021-Report.pdf
2 https://www.morningstar.com/content/dam/marketing/shared/pdfs/Research/global-esg-q2-2021-flows-report-final-numbering.pdf?utm_source=eloqua&utm_medium=email&utm_campaign=&utm_content=27223
3 https://internationalfinance.com/islamic-financial-assets-grow-over-2-tn-globally-imf/
4 https://www.theedgemarkets.com/article/cover-story-sustaining-performance-shariah-funds
5 https://www.reuters.com/business/finance/global-islamic-finance-forecast-grow-main-markets-recover-sp-2021-05-03/
6 https://www.theedgesingapore.com/news/funds/maybank-launches-singapores-first-shariah-compliant-balanced-fund